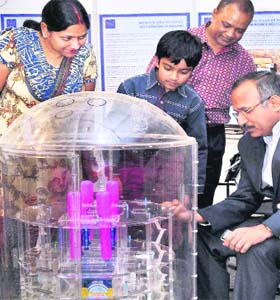 Visitors admire prototype of a nuclear reactor at the Jharkhand International Trade Fair in Ranchi on Sunday. — PTI
Pitroda wants a total makeover for Railways
New Delhi, February 26
After the Kakodkar Committee report on railway security which suggested drastic steps to improve safety measures, it would be the Sam Pitroda committee report which would be presented to the Railway Minister Dinesh Trivedi tomorrow.
Activists demand NCW chief's resignation over 'sexy' remark
New Delhi, February 26
National Commission for Women (NCW) chairperson Mamta Sharma was in the line of fire today for her controversial remark that women should not feel offended when they are called "sexy" with rights activists calling it "irresponsible" and demanded her resignation.
ISRO row: Nair & Co write to PMO again, slam Sinha panel
Bangalore, February 26
Former ISRO chief G Madhavan Nair has shot off a fresh letter to the Prime Minister's Office urging it to order an inquiry into the reasons behind the annulment of the controversial Antrix-Devas deal.
China far ahead in science: PM
Washington, February 26
China is in "many ways far ahead" of India in the field of science, says a concerned Prime Minister Manmohan Singh, who last month pledged to more than double the country's R&D spending to $8 billion a year by 2017.


A father learns his lesson the hard way
New Delhi, February 26
A bias kept Abdul Shah, a farm labourer from the Sahapara area of Howrah, from taking his infant daughter to the polio immunisation camp in the village though he had taken his elder son to the camp a couple of times.


HOPING FOR THE BEST: Rukhsar with her mother
Bengal Shame: Rape cases on the rise
Woman assaulted on rail tracks, mob lynches 2 men
Kolkata, February 26
Days after a woman was allegedly raped near a night club in Kolkata's upscale Park Street area, West Bengal was on Sunday shaken by two more rape cases in Burdwan and East Midnapore districts. In one case, a mob of villagers beat two alleged rapists to death.
Maoists torture, kill 2 cops at Bastar people's court
Raipur, February 26
The outlawed group Communist Party of India-Maoist (CPI-Maoist) killed two Chhattisgarh home guards at a 'jan adalat', people's court, in an undisclosed forested pocket in the restive Bastar region for defying their diktat, a police official said today.
More trouble for SRK's Mannat
Mumbai, February 26
The woes of actor Shah Rukh Khan over Mannat, his palatial seaside bungalow in suburban Mumbai, show no sign of coming to an end. City-based activists have now moved the Supreme Court alleging violations of environmental laws in the construction of the building.
BSF seeks DGCA nod for flying Dhruv
New Delhi, February 26
After the grounding of its 'Dhruv' helicopter fleet recently, the BSF has approached the Directorate General of Civil Aviation (DGCA) for determining the airworthiness of these choppers for future operations, including in the Maoist corridors.
Lanka arrests 22 Tamil fishermen
Rameswaram, February 26
Twenty-two Tamil fishermen and their five boats were taken into custody by Sri Lankan naval personnel when they were fishing near the International Maritime Boundary Line (IMBL) off Arichalmunai in this island early today, the police said.
'Kudankulam to be operational soon'
Karaikal/Chennai, Feb 26
The Union Government will take steps to commission the stalled Kudankulam nuclear power plant "as early as possible", Union Minister of State in the PMO V Narayanasamy said today, adding that it was incurring a Rs 750 crore loss per month by lying idle.
Jantar Mantar
Unhappy with Gadkari, Modi gives Uttar Pradesh a miss
Despite public assertions by senior BJP leaders that Gujarat Chief Minister Narendra Modi would campaign in Uttar Pradesh, the party leader deliberately chose to stay away from this crucial election. It is no secret that Modi is unhappy with BJP president Nitin Gadkari for rehabilitating his bete noire Sanjay Joshi who was forced to resign as party general secretary after he was involved in a sex CD controversy.