| | | |
| --- | --- | --- |
| | OPED — THE ARTS | |
India's search for comic relief
Vandana Shukla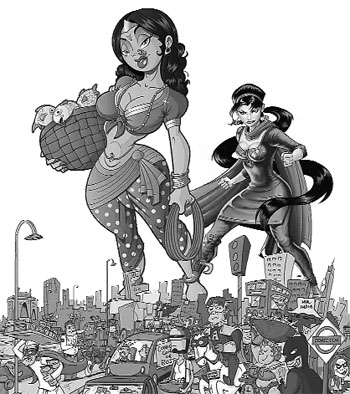 How it hurts when your children do not share the same enthusiasm for Tintin, when you take them to show Stephen Spielberg's film on the intrepid comic character with a child-like gusto! For a generation that grew up on the lone legitimate means of entertainment — comics, this insouciance can be heartbreaking. Perhaps, the new breed of Indians has met its indigenous expectations in comic characters — born and bred on the Indian soil, shaped by Indian situations and fired by the very Indian imagination. A Belgian journalist with his gelled hair and audacious feats in exotic lands is of lesser interest to a generation fed on the masala tales of Supandi, Shambhu, Tinkle, Nagraj and Chacha Chaudhury. The Frank Miller creations, howsoever mighty, seem to fail before the indigenous jugad of desi characters.
Comics, like Hindi films are going through an image make-over after going through a long haul of identity-crisis. The old formula of mythological characters, or, characters designed on the likeness of superman is losing ground, and a new uniquely Indian character, with a pan-Indian appeal is struggling to take birth. Though, there are some indigenous characters, popular in pockets, but none has yet reached the kind of popularity enjoyed by its foreign counterparts like Spiderman or Superman.
Unlike short stories or parables, comics are an independent entity, outside of any broader literary context. They also do not have a long history in our land. At once worldly and whimsical, rooted in the abstract as well as in the intellectual, they are an immense reflection of culture and lifestyle. And, most importantly, they shape up a young mind's faculty of imagination.
the all new superkudi
As Indians begin to assert their unique cultural identity in the world — in terms of music, literature and fashion, a by-product of a robust economy, they are beginning to look for their own comic characters. Like the nursery rhymes, taught only in English, one finds it impossible to remove the Franco-Belgian or American comic characters from one's mind when one thinks of comics, thanks to their excellent production quality and marketing strategies.
But, all this may change soon. While the comic industry is rife with hushed rumours of Marvel Comics, among the biggest in the comic industry in the world, looking for an Indian collaboration, several small and medium size characters of the Indian comic books are posing stiff competition to the super heroes of the American company that bought Disney. The third- world comic crowd — not as muscular and tech- savvy as the first-world superheroes are, is asserting its presence. And, the stagnant comic industry, despite big names like Marvel and DC, which have copyright over top ten comic characters, know that numbers count. A country of over a billion, with a fast growing literacy rate is good for a Batman, Spiderman or Superman, much in need of fresh oxygen with the economies of their countries of birth on a slide.
Also, for all the diversity, cultural assortment and creative energy inherent in India, it is only a matter of time before Indian comic industry decides to move away from creating variations of Hanuman, Karna and Arjun. The success of the likes of ACK (Amar Chitra Katha), which traditionally sourced its material from the success of the Indian myths, has made Indian writers lazy. There is a kind of hesitancy in imagining fresh characters rooted in the contemporary complexity of life and weave their own fables. Another reason for this lethargy is, a lot of animation and artwork is outsourced from small publishers in UK and USA, which is keeping the home grown creative talent busy, and it also offers good money.
Yet, few voices are making a difference. To begin with, the second consecutive year of successful comic convention Comic Con India provided much needed platform to smaller publishers, rich with potential and looking for an audience. This year, the mascot of the convention was Superkudi ( kudi means a girl in North India), which reflected a tremendous shift taking place in the Indian comic industry at several layers. The buxom kudi wore salwar kameez and a cape like scarf, a kind of east meets west statement and rubbed shoulders with the likes of Wolverine and The Hulk and Timpa and Monkeeman.
The new voices
" Participation of Marvel Comics this year in Comic Con itself is an indicator that there certainly is a market to be explored" says Jatin Varma, promoter, Comic Con India. They not only came but became co-sponsors of the event and showcased their upcoming titles like, The Avengers and John Carter. But, Varma also adds, many small publishers are breaking away from big names in the industry because, unless there is a unique concept to offer, the big-ticket publisher is of little help. Readers reject what is stale. New concepts have been well-received offered by relatively new entrants; Manta Ray Comics has introduced a graphic novel on sexual exploitation, on complexity of urban life and on the life of Charles Shobhraj. These are unusual subjects for this genre, but have become instant hits. Ditto goes for Level 10 Comics, which introduced itself at the first Comic Con last year, is now creating ripples in the industry by introducing a South Indian hero Odayan, a character based on Yamraj called Daksh, who falls in love in hell and Old School, a hilarious take on the generation-gap. They also introduced Comic Jump, India's first ever critically acclaimed monthly comic anthology, which is also India's only comic magazine which has been well received by the urban, educated, middle class India.
Other quirky storylines, which are trying to get heard in the big- bad world of superheroes and super-villains on the strength of their punch-lines are titles created by Untitled Creations like 40 Winks and Munkey Thugs, a supernatural thriller and an urban adventure, respectively. Rovolt Entertainment has come up with an interactive book Tiggu the Tiger, which even the toddlers can read and draw in, while for mature readers it has superhero genre Aveon 9 and Metafreakz. These titles are taking comics to a new height for the mature comic readers in India.
Merchandising the comic
Secondly, publishers are becoming market savvy. They have understood that publishing comics alone cannot sustain this industry. Almost everyone has understood the relevance of merchandising. " Books are just one part of the comic industry, branding the character is essential with merchandise, because the profit margins on books are thin compared to the merchandise," adds Varma of 20 Onwards Media. And the big names in the industry are diversifying, following the footsteps of their foreign counterparts. ACK is starting a state- of- the art animation studio, apart from getting in merchandising and producing animated feature films.
But, wiser voices warn against the trend. Gary Groth, editor-in-chief of The Comics Journal, thinks that since superheroes have given Hollywood blockbusters, fewer and fewer copies of the comics are sold, and they largely go unread. Secondly, creation of cult characters in comics robs the writers of original ideas and creativity. In this context, India is at an advantage, with almost no comic superheroes so far, except the mythical characters to influence imagination. And, the readers, who constitute a niche segment, are ever hungry for new content. No wonder, shelves are overflowing with characters and ideas, all to the advantage of the reader who is spoilt for choices.
The digital story
Maximum innovation in the comic industry is taking place at the digital space. The consumer of this genre is in the age bracket of 5 to 20, who is net savvy and does not want to pick staid paper comic. Through digitalisation the experience is turned interactive, each page becomes a frame, negotiable, at times animated, which may also have an integrated voice. Ashhee Media's comic strip Giddoo is completely animated and has a music anthem too. "Motion comics is where maximum innovation is happening, it brings down the cost, provides level-playing field because you don't need distribution network of a big publishing house, if your content is good, you can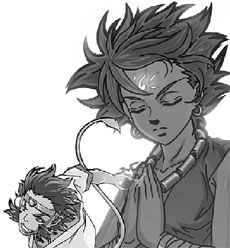 go viral," says Manish Dhingra of Mediology Software, the company digitalising several comics for web, mobile and tablet devices.
The web space is becoming more popular for it enables creativity in the readers by making it interactive, people can go to the empty page and fill in the continuum, they can also evaluate the content. The comic world knows a serious fact, in the global world where losing identity means losing business, it's important to be your own person. And, it's the combination of rich content and smart presentation that will create elbow room for Daksh and Supandi amid crowded global comic characters. No wonder, Tintin has found a new Indian avatar in Timpa.


Thinking
out-of-the box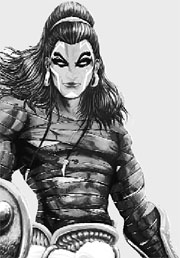 n Liquid Comics has launched Graphic India, a new digital platform to showcase young artists and writers. Founded by entrepreneurs Sharad Devarajan, Gotham Chopra ( new- age guru Deepak Chopra's son) and Suresh Seetharaman, Liquid Comics are developing titles – largely revolving around Indian themes – with some graphic novels created in association with top names from film industry like Shekhar Kapur, John Woo, Guy Ritchie, Nicolas Cage, Wes Craven, Barry Sonnenfeld and Marcus Nispel.
n Comic legend Stan Lee is creating Chakra – The Invincible, a new Indian superhero character that revolves around a Mumbai teenage tech genius, Raju Rai, who develops an enhanced suit that activates mystical powers.
n Bangalore based publisher Manta Ray created a new-age graphic novel Hush – featuring no words - about a girl sexually abused by her father.
n Mumbai-based Level 10 Entertainment created  Daksh, a devil figure based on the character of Yamraj, who is "banished to earth because he dared to love in hell !"
n Zombie Talkies: Bloodfest in Bollywood,  a joint venture by film production banner iRock Media and 20 Onwards Media imprint Pop Culture Publishing, will be accompanied with upcoming release of feature film Rock The Shaadi.
n Japanese manga artist Yukichi Yamamatsu too has launched an Indian title Stupid Guy Goes to India – based on his experiences of living in Delhi in 2004, published by Chennai-based Blaft Publications.
n To further spark young Indian creative talent to look at graphic novels as a meaningful profession, Liquid Comics is featuring a 'Create A Comic Contest,' where creators of a winning idea submitted will be awarded a contract to publish their graphic novel and win Rs 100,000($2,000).