| | | |
| --- | --- | --- |
| | OPED — WOMEN | |

Daughters…shall remain
daughters!
In a society that is becoming increasingly promiscuous, the conflict between our traditional values and new found mores, hurts no one else more than the fair sex
Rajesh Gill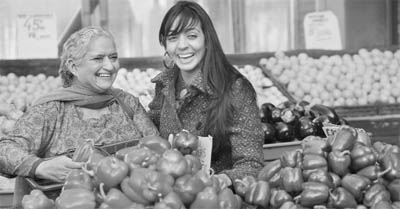 Everybody says that times have changed and today, there is no difference between a son and a daughter. An increasing number of people also go to the extent of arguing that daughters are an asset to parents in contemporary times, since it is they, and not the sons, who rush to the rescue of their aging parents, whenever the latter are in need of care and support.
Girls are no less than boys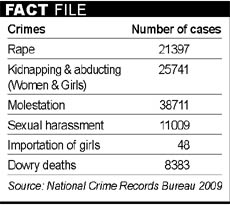 Every other day, some NGO or a political party flashes photographs in the newspapers showing the celebration of the birth of a girl, eulogising daughters. There are at times occasions when parents of a newly born girl distribute sweets, sending the message that they no longer distinguish between a daughter and son. In the metropolitan cities, one comes across hundreds of girls driving on the roads, working in banks, post offices, educational institutions, airlines, private and corporate offices, BPOs and so on, indicating that a gender sensitive social structure is coming up. Uplifting of girls and women has become the most valuable slogan among the politicians and policy makers too. It sounds really optimistic and it seems we are close to kicking off the age old male chauvinism. Who says girls are inferior to boys? In fact, girls are making their parents proud by excelling in the fields of sports, education, science and technology, art, literature and so on. It fills one with great pride when one finds young women flying the aircraft, managing the difficult traffic, pronouncing progressive judgments in courts, managing the police force and so on. One starts feeling as if gone are the days when we Indians used to distinguish between sons and daughters.
Crime against fair sex continues
Yet as one turns the side, one gets bombarded by the data on the shrinking sex ratio, especially the alarmingly declining child sex ratio, the increased crime against women in the shape of molestation, rape, sexual harassment at workplace, other sex related crimes, dowry deaths and so on, reminding one that the situation perhaps is not as rosy as it seems. Every now and then, a female infant is found in the garbage, most probably abandoned by her own mother or some close relative. It is very normal for an expectant mother to get rid of a female foetus, irrespective of whether she is illiterate or educated, rural or urban, rich or poor. Men raping girls as old as two years or four years is an extremely common incident, which hardly seems to affect the psyche of people, except those having very young daughters. Having statutorily prohibited dowry way back in 1961, it is a pity that our daughters continue to get murdered by their husbands and their relatives. According to the National Crime Records Bureau (NCRB), there were 1,948 convictions and 3,876 acquittals in dowry death cases in year 2008. According to the Indian police, every year it receives over 2,500 reports of bride-burning. The Indian National Crime Records Bureau reports that there were about 8172 dowry death cases registered in India in 2008, an increase by 14.4 per cent since 1998. Apart from these crimes, the most rampant kind of violence against young girls is eve teasing, which has been interpreted as 'little rape' in academia. It is unfortunate that till date, the onus of eve teasing is generally placed on the victim herself. The booklet containing safety tips issued by the Delhi Police some time back is one such step, telling girls to remain invisible and non-existent. Under the circumstances, can we still claim that daughters are going to be the first choice of parents in near or even distant future?
Why people long for sons?
Do we have to still pose this question to ourselves? It is not difficult to understand that why even today, when girls are doing much better than boys in education and employment, people continue to long intensely for sons. The reasons are not very hard to find, considering the statistics given above. Moreover, a daughter has always been considered as an avoidable investment while a son is believed to give financial support to the family. Actually, there are some trends in contemporary social situations which are thwarting the very cause of gender equality.
I am reminded of the true story of a poor woman toiling hard to raise her family which included her young daughter of 17 years, attending her school. The mother would starve herself in order to ensure that her daughter received good education, passed with a respectable percentage, wishing her to settle down in life as a better placed person than she herself was. One fine day, the woman was found madly pleading at the police station, begging for help since her daughter, a minor, had been abducted by somebody. Totally shattered, with no help from the police, she kept running here and there without food or sleep, thinking that it would have been better had she killed the wicked daughter when she was born.
Then there was recently a news report which stated how a young man found his sister in a compromising position with her lover at their home in Punjab, during midnight when parents were away and he killed both of them. The case was labelled as one of honour killing. One wonders as to what a normal person would do on encountering such a provocative situation as this one. There have been numerous cases citing a similar human reaction to a provocative situation in the form of murder, judged as a normal human reaction, thus deserving a relatively lenient view.
Different standards for girls
Parenting a daughter becomes an all the more daunting task when you have to send her out first for education and then for work, at the same time expecting from her a behavior that does not put her parents to public shame. The daughter carries on her head all the burden of family honour while her brother enjoys a complete immunity. With the ever increasing violent crimes against women, while a middle class parent brings up the daughter just like a son, she is repeatedly not allowed to accompany her class mates to a trip, because of the fears which are multiple. The daughter keeps on complaining to her mother as to why she has to meet the frenzy of her parents on having been seen with a male friend, while her brother keeps on changing his girl friends without any objection from them. The daughter quietly gets on to her mother and asks her with moist eyes as to why they have different standards for her and her brother when she is more talented, hardworking and sincere. The mother, herself greatly pained, tells her "you are my very dear daughter, but see you are a daughter and you can't be a son."
Traditional vs modern values
When the working parents leave home in the morning for work and get to learn that it was a "Kiss Day" and that the radio channels are working very hard to teach the youngsters the significance of different types of kisses, fear runs through their spine, thinking of what their daughter would be doing. The mother curses herself for having no time for the daughter, who might also have been celebrating the Kiss Day and tomorrow who knows there might be a "Sex Day" too.
Daughters are more talented than sons, true, and therefore, they have to be sent out for education, training and work. But the messages on the radio channels telling the young boys to carry condoms on the Valentine's Day, when they go to enjoy with their girls friends, send shivers in the parents who have young daughters, somewhere in the same or some other city, pursuing their education or career. It is one thing to say that if boys can enjoy premarital sex, why can't girls; but it is altogether another thing to accept the statement for your own daughter. Yes, society is an extremely forceful factor that governs all of us. The news on gender violence is absorbed very differently by different kinds of parents. Parents of young daughters, especially the middle class, smitten by the cultural idioms, absorb these messages in an altogether peculiar manner, given the fact that enjoyment of sex has very different consequences for boys and girls. I remember one poor domestic maid, perpetually worried about her daughter's safety once saying "Isn't it very strange that a man, even if extremely weak, addict and old, is invariably able to overpower a young and healthy girl and rape her!"
With an extremely unsafe environment for women, coupled with a highly commercialised celebration of sexual activity, often symbolised as a fundamental right, daughters shall continue to be either the second or no choice when parents have to remain away at work, leaving the children at the mercy of a society that is getting extremely promiscuous. While we switch over to different dressing styles, adopt novel food habits, flaunt latest technology, discarding the older one overnight, we find it too hard, if not impossible to dump our existing attitudes and cultural idioms so quickly. In other words, while we appear to be western and modern in physical appearance, we find ourselves pulled back by the age old mindset that we inherit from our culture. What follows is a confusion….the biggest casualty of which is, of course, the daughter!
The writer is chairperson, Departments of Women's Studies and Sociology, Panjab University, Chandigarh