Talk of change, fairness & welfare
Political parties are reading the mood of the people correctly. But what is not being realised is that the basic transformation needed in societal structures, institutions, sources of power and wealth/resources requires more than just changes in tax structures
Faisal Bari
IMRAN Khan has been talking of turning Pakistan into an Islamic welfare state and has invoked the example of some of the Scandinavian countries by way of explanation. The PML-N has also been promising change and saying that they have been thwarted from implementing change twice but they are going to do it this time.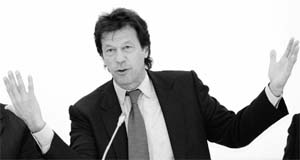 Imran Khan, leader of the Tehrik-e-Insaf Party
The PPP insists they are already implementing the change that others are talking about. The religious parties, of all hues, are saying that they are the only ones that can bring about real change in Pakistan and all other parties are just parties of the status quo. The MQM is saying they have always stood for change, on principle, and have been against feudal people and feudal-thinking.
But what is the change that is being promised? Allow me to motivate the discussion via a few facts. Sweden's, one of the Scandinavian examples that is quoted, tax revenues are 46-47 per cent of its GDP. Its taxation system, formed and reformed constantly over the last 100-plus years, charges around 48 per cent as income tax (32 per cent direct and the rest indirect from the employer), has a 25 per cent value-added tax, with lower rates for food and some other items, and a 30 per cent tax on capital.
Bear the comparison in mind: Pakistan raises 9 per cent of the GDP in tax, cannot get most people who have a high enough income in the tax net, cannot get people to even pay 15 per cent value-added tax and can hardly impose any tax on capital gains.
On the welfare side, the Swedish system is based on three areas/ministries: the Ministry of Health and Social Affairs, the Ministry of Education and Research and the Ministry of Employment. Healthcare of good quality is available to all Swedes. Welfare payments are tied to specific programmes: children get support when parental income is not enough; parents can get money to stay home to take care of young children; there are cash transfers for those who cannot work and for those who do not earn enough.
Education is free for all until the age of 16, and even university education is subsidised heavily for those who cannot afford it. Unemployment benefits are quite generous and there are very strong programmes for skill training/retraining of workers.
Though there have been lots of concerns raised about the sustainability of the Swedish model, and with time there have been systemic changes to make it more efficient and sometimes to even cut some benefits, the model seems to work well for the country and the Swedes continues to enjoy one of the highest standards of living in the world.
Do these facts give an idea of the scale of change that is needed in Pakistan to move to a welfare state? If the Pakistanis are to fund the welfare state, given the poverty, illiteracy, lack of skills and lack of basic amenities in Pakistan, through taxation, there will be need for a lot more money than Sweden requires, as a percentage of the GDP, as Pakistan has to address some basic deprivations that the Swedish government does not.
The deficits in nutrition, health, education, skills, infrastructure availability and provision are very large in Pakistan. Given the inequality in Pakistan, the burden of this welfare state will have to be borne by the middle class and the rich in Pakistan; so the burden per person will be a lot more than in Sweden.
Pakistan will not only have to bring every person, above a certain income/wealth threshold, in the tax net, it will also have to have fairly steep levels of taxation to extract the needed amounts. And this will be true even if Pakistan scales down the extent of the welfare state and does not offer the level of facilities/incomes that Sweden offers.
Even the provision of decent quality basic health, education, training programmes, insurance against income/employment shocks, and investments in infrastructure will require the significant extension/revamping of the taxation system. Are parties going to do that? So far none of the parties have shared any plans as to how they will even start reforming the tax system, except for making vague promises or conversation on extending the net and taxing all incomes.
It should also be borne in mind that the tax system alone will not be able to deliver the kind of revenues Pakistani are looking for. There is some evidence that argues that taxation systems can be made progressive, and they should be, but they are really not the right tool, nor should they be, for redistribution. Taxation systems are for generating resources for what the people feel their government should be doing but redistribution should not be a part of the taxation agenda.
Redistribution, if there is a need for any, based on issues of historical wrongs, notions of fairness and/or requirements of social contract between citizens, should be more direct.
The kind of change that parties are promising and that we need in Pakistan, to renew its promise and reactivate its social contract, requires a basic redistribution as well: a redistribution of power which clearly cannot be done without a redistribution of wealth.
Giving people access to assets, in the form of education, skills, livestock and land, might be a pre-requisite for setting up the kind of welfare state that people are thinking of. Are the parties ready for that? Will the vanguard of these parties, whether they be Sharifs, Zardaris, Chaudhries, Legharis, Khans, Gilanis, Qureshis and/or Tareens be willing to lead this change?
Will urban estates of 300 kanals or 600 acres be volunteered? Will people still owning thousands of acres give them up? Will the military, probably the largest landowner in Pakistan, directly and through holdings of officers and ex-officers, be willing to play ball? Will the judges and bureaucrats give up their plots? Nobody is talking of these. And this is a strong indication that such change is not on the cards.
But if that is not the case, then bringing about change through taxation is not going to be possible. If 80 per cent- odd Pakistanis live around or below $2 a day, what sort of taxation potential is there for a basic transformation? Cutting off a dog's tail to feed him meat is not transformational.
Change is the need of the hour. Political parties are reading the mood of the people correctly. But what is not being realised is that the basic transformation needed in societal structures, institutions, sources of power and wealth/resources requires more than just changes in tax structures, though those are going to be substantial and difficult too. The people who seem to be promising change are the ones sitting on the resources. Will they be able to impose things on themselves? It might take a few more rounds of disappointments, in parties, leaders and promises, for people to be able to reach there. But if Pakistan is to have a progressive future that is the direction it has to go in.
The writer is senior adviser, Pakistan, at Open Society Foundations, and Associate Professor of Economics, LUMS, Lahore.
By arrangement with Dawn, Islamabad.