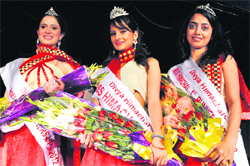 Miss Himachal 2012 Vaishali (centre), first runners-up Nisha Jamwal (right) and second runners-up Varuna Sharma at the Gaiety Theatre in Shimla on Sunday night
Cong, BJP workers clash in police station
Dharamsala, February 20
Congress workers and supporters of Independent MLA from Nurpur Rakesh Pathania, who is an associate member of the BJP, clashed in the Jasur police station late last evening. The police has registered cases and booked both Congress and BJP workers, including block president of the Congress from Nurpur Baldev Papi and Rakesh Pathania's son Bhawani Singh. Till the filing of this report, two of the accused, Baldev Papi and Mintu of the Congress had been arrested by the police.

Satpal Satti is state BJP chief
Shimla, February 20
Chief Parliamentary Secretary Satpal Satti has been appointed as state BJP chief in line with the recommendations made by the two-member committee which reviewed the functioning of the party and the Dhumal government in the state.
Probe irregularities in water scheme, says Youth Cong
Shimla, February 20
The Youth Congress has demanded an impartial probe into allegations of corruption and irregularities in the implementation of the Kagaihan water supply scheme levelled by BJP MP from Kangra Rajan Sushant.
Sakshar Bharat Yatra flagged off
Chamba, February 20
Local MLA BK Chauhan today flagged off the jatha of Sakshar Bharat Yatra which arrived here from Delhi. The yatra participants will tour the alpine areas of Tissa tomorrow and Salooni on February 22. The yatra will leave for Jammu and Kashmir on February 23.
Kaul Singh misleading people: IPH Minister
Palampur, February 20
Ravinder Thakur, Irrigation and Public Health (IPH) Minister, today criticised HPCC president Thakur Kaul Singh for misleading people of the state and presenting distorted facts before the press pertaining to the development undertaken in the state in the past four years. He termed the recent statements of Kaul Singh as baseless and far from the truth.
Central Industrial Package
Excise clarification has industry beaming
Solan, February 20
With the Central Board of Excise and Customs (CBEC) issuing the much-awaited clarification regarding the continuation of various benefits of the 2003 central industrial package to units which have shifted to new premises, the industry in Himachal has heaved a sigh of relief.
Shivratri mela panel fails to provide funds, land for Dev Sadan
Mandi, February 20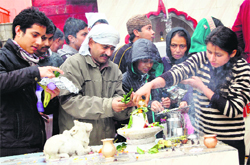 The proposed Rs 3-crore multipurpose Dev Sadan to provide shelter to over a 1,000 Devlus and Bajantris, traditional devotees and musicians, who accompany devis and devtas for the weeklong International Mahashivratri fair in this temple town, has run into rough weather as the Shivratri Mela Committee (SMC) has failed to provide funds and land for the sadan.
Devotees pray on the occasion of Mahashivratri at Khaniyara near Dharamsala on Monday. Photo: Kamaljeet
Week-long International Shivratri Fair begins today
Mandi, February 20
Chief Minister PK Dhumal will lay the foundation stone of the Rs 1-crore District Self-employment Training Centre (DSTC) at Pandoh, near here, and Rs 2.14-crore District Panchayat Office and Zila Parishad building at Bhiuli, before presiding over the inauguration ceremony of the week-long International Shivratri Fair here tomorrow.
Anurag grants Rs 20 lakh for Luhnu sports complex
Bilaspur, February 20
The Himachal Pradesh Cricket Association (HPCA) is taking suitable steps so that cricket lovers in far-flung areas, where there are no cricket stadiums, also get the facility of playing cricket. This was stated by HPCA state president and BCCI joint secretary Anurag Thakur while inaugurating an inter-departmental cricket tournament organised by the district administration in collaboration with the District Cricket Association here yesterday.
Restore IRDP status: Villagers
Bilaspur, February 20
A deputation of at least 12 men and women of the Balha Bhalwana gram panchayat of Chandpur area met DC Ritesh Chauhan on Saturday and sought the restoration of the IRDP status to them.
58 cases solved at Janata Ke Dwar camp
Bilaspur, February 20
Prashashan Janata Ke Dwar camps are proving to be very useful for solving villagers' problems at their doorsteps and this system will be continued in far-flung areas.
Dowry death case: Three remanded in police custody
Palampur, February 20
All the three persons accused in a case in which Meena was allegedly forced to commit suicide by her in-laws were presented in the local court today and remanded in police custody till tomorrow.
Man burnt alive
Palampur, February 20
An old man was burnt to death in a devastating fire that broke out at Gopalpur village, 15 km from here, last night. The SHO said Jaikaran lost his life as he was sleeping in his house. He said in a few minutes the fire spread in the entire building and he was unable to come out.
Body found from car in Sutlej
Sundernagar, February 20
The police yesterday found a body from a car which had fallen into the Sutlej.