(left)A heap of garbage lying on the road side near the police station of Sector 5, Panchkula. Tribune photo: Nitin Mittal and Lotus flowers give a soothing effect to the eyes at the College of Art in Chandigarh. Tribune photo: S Chandan
Experts share experiences in clinical research
Chandigarh, February 20
The 30th National Workshop on Clinical Pharmacology, being organised by the Department of Pharmacology, PGI, began today. The aim of this workshop is to provide an overview of the scientific, ethical and legal conduct of clinical research.
Road mishap near IT Park
Even after 24 hrs, police fails to file FIR
Chandigarh, February 20
In what appears to be an attempt to "save" UT assistant estate officer Rahul Gupta, the UT police has failed to file an FIR even 24 hours after impounding his car for ramming into a motorcycle and leaving three persons seriously injured.
4-year-old girl crushed to death by Tata Safari
Chandigarh, February 20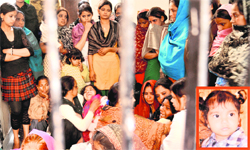 Ashok Kumar, a resident of Sector 38-A here, had never thought that letting his four-year-old daughter Ghena go alone to buy a chocolate would cost her her life.




Wailing relatives and neighbours of Ghena (inset), who was killed in an accident at Sector 38-A, Chandigarh, on Monday. Tribune photo: Pradeep Tewari



Blame game over caved-in sewer line
Mohali, February 20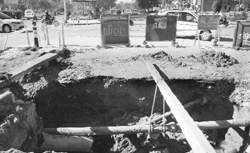 The Greater Mohali Area Development Authority (GMADA) has blamed the Punjab Water Supply and Sewerage Board (PWSSB) for the collapse of a sewer line at the Kumbra traffic junction here.



It has been over a month that this caved-in portion of a sewer line at the Kumbra Traffic junction on the Chandigarh-Sohana road is without repairs. A Tribune photograph
Panel for action against DSP
Mohali, February 20
In a four-year-old death of Roshan Ali, a former conductor of the Chandigarh Transport Undertaking (CTU), who was found dead in a pond in Tripadi, Kharar, the Punjab State Human Rights Commission has held a Deputy Superintendent of Police (DSP), Raj Balwinder Singh Marad, previously posted at Kharar, guilty of misleading the commission while probing the matter.
Power bill-collection centre demanded at Zirakpur town
Zirakpur, February 20
In the absence of an electricity bill-collection centre at Zirakpur, the residents have to travel a long distance to deposit their bills at the Electricity Department office at Pabhat village.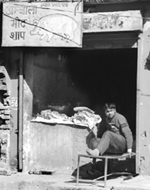 Unhygienic conditions at Zirakpur meat shops
Zirakpur, February 20
As there is no slaughterhouse, meat is being sold in Zirakpur in unhygienic conditions. Residents said meat was being sold at hygienic outlets. They alleged that the Zirakpur Municipal Council and the Health Department had failed to check the menace.




A shopkeeper sells meat in unhygienic coonditions at Zirakpur. Tribune photo: Nitin Mittal
Fervour marks Mahashivratri
Chandigarh, February 20
Mahashivratri was celebrated with fervour in and around the city today. Thousands of devotees thronged various temples to worship Lord Shiva and Goddess Parvati.



(1) Devotees worship Lord Shiva on the occasion of Maha Shivratri in Sector 21, Chandigarh on Monday. Tribune photo: Manoj Mahajan (2) A boy, dressed as Lord Shiva, presents the tandav dance in Chandigarh on Monday. Tribune photo: Pradeep Tewari (3) Devotees offer milk at a Shivling at a temple near Rajpura. Photo: JS Virdi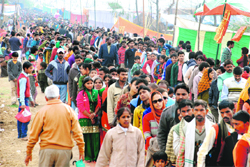 Around 2.7 lakh devotees throng Saketri temple
Panchkula, February 20
An estimated 2.7 lakh devotees from all over the region gathered at the Saketri temple here to pay obeisance on the occasion of Mahashivratri today.



A long queue of devotees at Shiv Mandir, Saketri. Tribune photo: Nitin Mittal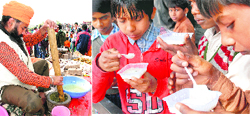 (1) A devotee prepares bhang at Shiv Mandir, Saketri. Tribune photo: Nitin Mittal Children partake of langar on the occasion of Maha Shivratri in Phase I, Mohali. Tribune photo: Vicky Gharu
Go ahead, says Admn
Chandigarh, February 20
The UT Administration has given the green signal to the municipal corporation (MC) authorities to fill the 650 posts which have been lying vacant for a long time.
Excise chairman assures to remove pay anomaly
Chandigarh, February 20 The chairman of the Central Board of Excise and Customs, SK Goel said that the department was looking into the grievances of Central Excise officers on priority and assured a deputation that the grade pay anomaly would soon be removed, besides creating a strong staff grievances redressal mechanism for the future.
Nothing new in proposed budget
Chandigarh, February 20
The municipal corporation (MC) has no major project to offer for the city in the proposed budget for the next fiscal year. There is a mere increase of Rs 9 crore under the Plan head.
2 projects on bedsore awareness started
Chandigarh, February 20
"Bedridden people face a major problem of bedsores. This state can be prevented if early signs are noticed and catered to in time," PGI experts have said.
State govt no to Haryana Police proposal
Panchkula, February 20
The Haryana Police proposal to outsource the services of police control room and emergency response number (100) for "positive image building" has been rejected by the state government.
kingfisher crisis
Airlines hike fares by 15-20 pc
Chandigarh, February 20
In view of a majority of flights of the Kingfisher airlines being cancelled across the country, commuters are now looking at other airlines to book their tickets.
2 Mohali residents hurt as car rams into tree
Mohali, February 20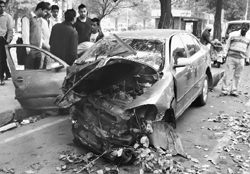 Two youngsters were seriously injured when the car in which they were travelling rammed into a tree near Silvy Park in Phase X here late last night. The vehicle rolled twice before coming to a halt.





A car that met with an accident at Phase-10 near Silvy Park in Mohali on Monday. A Tribune photograph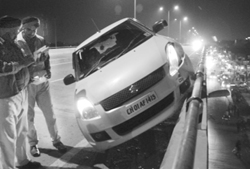 Close shave for driver of Swift car
Zirakpur, February 20
Mohit Garg, a resident of Sector 45, Chandigarh, had a miraculous escape when he lost control over his Swift car and it rammed into the railing of the Zirakpur flyover on Monday.


A car that went out of control hitting the railings on the Zirakpur flyover on Monday evening. Tribune photo Nitin Mittal
Constable succumbs to burn injuries
Panchkula, February 20
Punjab Police constable Hardeep Singh succumbed to his burn injuries at the PGI, Chandigarh, today. Hardeep Singh, along with another constable Multan Singh, was posted in the security of former DGP, Punjab. Multan Singh is still admitted in the PGI.
Piles treatment camp organised
Fatehgarh Sahib, February 20
The Rotary Club here organised its second free laser treatment camp for piles at the Sohal Hospital in Sirhind today.
Light rain likely today
Chandigarh, February 20
The sun played hide-and-seek in the tricity region, giving a relief to the residents from the cold-wave conditions that prevailed on Sunday.
Engg teachers to undergo in-service training
Mohali, February 20
In a move to improve the quality of technical education in Punjab, the state government is going to introduce in-service industrial training for teachers of all the engineering colleges. "The initiative is part of the new Technical Education Policy of Punjab," said Suresh Kumar, Principal Secretary, Technical Education, Punjab.
attendance register theft at pu
70-yr-old mother of driver writes to ministry, Chancellor
Chandigarh, February 20
Bringing PU officials in the line of fire, Leela Devi, the 70-year-old mother of Satish, a PU driver, has approached the Ministry of Human Resource Development (MHRD) and the Chancellor's office, accusing varsity officials of victimising her son for seeking information under the RTI Act and unearthing alleged rampant corruption in the varsity.
Conference on statistics opens at PU
Chandigarh, February 20

A two-day 'National Conference on Advances and Applications in Statistics' (CAAS), organised by the Department of Statistics, Panjab University, began at the ICSSR Complex on the university campus here today

A conference on advances and applications in statistics in progress at ICSSR Complex at Panjab University in Chandigarh on Monday. Tribune photo: Manoj Mahajan