Pro-change votaries hope Sarup will fast pedal progress plans
Sudhanshu Verma
Tribune News Service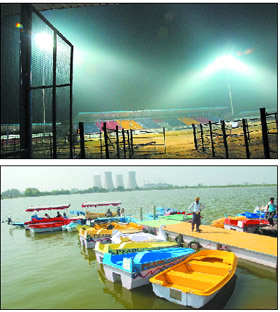 Bathinda, March 7
The moral of Bathinda's mandate is loud and clear. City opted for the change to ensure the ongoing change-process to continue. From the land of sand dunes to the city of flood lights, Bathinda has come a long way as from the landscape to skyline, almost everything has been changed during the last couple years.
Visibly content with the 'positive' change process, people pinned high hope on Sarup Chand Singla, the MLA-elect Bathinda (Urban), for being instrumental in accelerating the process of transforming the city by introducing the elements of modernity for making the 'backwaters of Punjab' to a tourist destination of Malwa.
Prof Pardeep Mittal, a resident of Ajit Road, said, "The very purpose of selecting Sarup is to accelerate the process of transformation."
Mittal said Sarup had always been instrumental in bringing in positive changes in the city even without being in power.
"Now, he is in better position to bring in the desired change in Bathinda," Prof Mittal said, adding, "That's why we are hopeful of seeing more modern dots in skyline like floodlights installed at multipurpose and hockey stadiums."
Kishan Singhal of Ganesh Nagar said development process in Bathinda would not only continue but would also be augmented. Kishan, said if Sarup gets a cabinet berth, the pace of change would be higher.
Kishan said the changes that had come to Bathinda were pleasing and no one wanted disruption in the much-needed transformation process.
"The change could be felt," Kishan said, adding, "Some five years ago, the Bathinda-Goniana road was in bad shape. Now, the highway with lights, elegantly-designed road-divider, gives it a look of a real highway."
Kishan said Sarup has been given the responsibility of not only continuing the process of development but also accelerating the same.
Echoing similar sentiments, Dr Gurjeet Singh of Patel Nagar said, "Sarup has always been accessible to the city residents. Sarup is a leader with the tag of 'always-available for everyone'."
He extended a helping hand even he was not in power, Dr Gurjeet said, adding, "Now when he is in power, the expectation from him is also high."
But not only 'superficial' changes like colourful fountains, boats in lakes, flood lights, modern stadium, malls, that could give the sense of modern city, people wants positive changes in the basic needs as well.
MM Behal, resident of Panchwati Nagar, said a developed city must be pollution-free to become a most sought-after place.
Behal expressed hope that the process of making available uncontaminated water to the residents would pick up the pace.
He also hoped that with Sarup would take steps to make Bathinda a thermal- ash-free city.