70 mm of colour…


The charm of watching Amitabh sway to the tune of Rang Barse has been eternal. The Anu Maliks and the Sunidhi Chauhans can keep making their earnest efforts, but the invincible Holi and Bollywood combination that came out in the 1970's still rules the pool-side parties.
The fair game

Award functions, reality shows, print and electronic interviews, her inviting plunging necklines, heavy bosom, over-the-top sultry acts, the new Khan and new Kapoor… Vidya Balan is all over Bollywood. This beauty, with her dirty acts in the Hindi movie The Dirty Picture, has proved that you don't need to be part of Karan Johar gang or fight and tell Salman Khan's entourage to be the most-talked about actor in the industry. It is the spirit, the never give up attitude, the readiness to face the world head-on; to invest trust and faith, to explore her sensuality…that makes the pretty actress Vidya Balan a hit today.
Splash of memories
Colour and chaos are two sides of the festival of colours - Holi. The day that brings people together, briefly diminishing the boundaries of caste and class, is also full on mischief and misbehaviour in the name of fun. Here are some known faces from the region sharing their bitter-sweet Holi memories.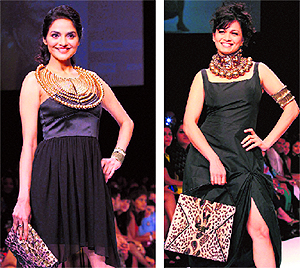 Starry night
Six women personalities walked the ramp for accessory designer Malini Agarwal, on the last day of Lakme Fashion Week. Bollywood actress Vidya Malvade, Madhoo Shah, Maria Gorretti, TV anchor Mini Mathur and socialites Shaheen Abbas and Sharmila Khanna, walked the ramp for Malini. Wearing black outfits, all the six women donned copper and gold color jewellery.




Gold and glitter: Actress Maria Goretti and Madhu display the creation of designer Malini Agarwalla at Lakme Fashion Week 2012 in Mumbai. —PTI

Finding the mystery girl
The mystery around the girl in the poster of Vikram Bhatt's production Hate Story has been solved. She is Bengali actress Paoli Dam, who created a stir with a nude scene in a movie last year.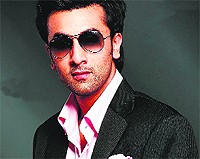 Ranbir's concert on the rocks
Ranbir Kapoor's much hyped world tour may not happen this year or it may not happen at all. The tour is co-produced by Rishi Kapoor. The tour was supposed to happen in August-September this year but it has been postponed. The Moranis are organising it and the organisers say that it is not likely to happen this year and they don't want to talk much about it. Rishi Kapoor refuses to comment while Ranbir has a diplomatic stand on the tour.
over & out: Ranbir Kapoor
In the right company
Bollywood actor Tusshar Kapoor, who has been part of hits like Golmaal and the latest The Dirty Picture, says multistarrers have helped him more than his solo films. The 35-year-old actor's multistarring ventures like critically acclaimed film Shor in the City, comic caper Kyaa Kool Hai Hum, gangster film Shootout at Lokhandwala, have earned accolades for him.
Priceless!
Katrina Kaif, one of the most sought after actresses in Bollywood, has reportedly been offered 1 crore rupees for making a 10-minute appearance in Kochi.
Nargis' new film
Nargis Fakhri finally has a new film in her kitty. It is being produced by Nikhil Advani and Arjun Rampal will be her co-star. She has signed it and Arjun was keen on her starring in the film.
Not so tweet
Chitrangada Singh, who had supposedly made a nasty comment about model Poonam Pandey on Twitter, has claimed that she doesn't even have an account on the micro-blogging site.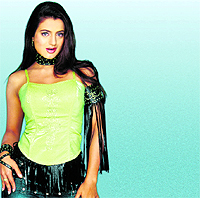 Ameesha gets experimental
Buzz is that in the David Dhawan film, Ameesha would be enacting the role of a prostitute. For someone who is aiming at making a comeback, isn't that a risk to be seen in an unconventional role for a leading lady? "But then I have not quite followed the rule book right through my career. In my early years as well I had no qualms playing a mother in Ankahee. Then I also went grey in Humraaz. Also, how many actresses would have willingly got into the kind of mode as I did in Thoda Pyaar Thoda Magic or Honeymoon Travels Pvt Ltd.?
Perfect role: Ameesha Patel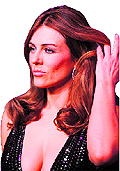 Gone with the wind
Elizabeth Hurley, who is known to turn out dressed to the nine for every outing, wasn't able to battle Mother Nature. The fiancee of Australian cricketer, Shane Warne, struggled to contain her long locks as they flapped wildly in the wind while a huge gust swept over her on the set of hit TV series Gossip Girl. However, the 46-year-old actress still looked every inch the fashionista beneath her giant shades and managed to keep out the chill in a long padded black jacket.
Fashion funda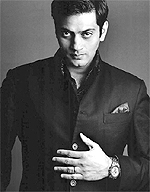 The ethnic silhouette
His most significant contribution to the fashion industry is the revamped look of bandgalas and Nehru jackets. And even after all these years, Raghavendra Rathore continues to experiment with his favourite subjects, only adding another muse lately—beautifully embellished sarees. This time too, his creativity doesn't fail to impress. So, when the fashion forecast comes from couturier himself, it's something you shouldn't miss at all.


Raghavendra Rathore
Trendsetter
Dressed to kill
Kriti Chawla, all of eighteen, is a trendsetter in the true sense of the word. From keeping herself up-to-date with the latest fashion and everything else about fashion, she has successfully evolved her own style statement. This is how she feels…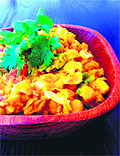 Go for mom-made food
A new study has confirmed that the nutritional status of children strongly relies on the person who prepares their meal. University of Granada researchers found that children who eat at home present a better nutritional status and are at a lower risk of suffering obesity than children whose meal is prepared by a person other than their mother. At present, "the mother is the family member who best knows the nutritional needs of children and has the strongest nutritional knowledge for the preparation of children's meals," the researchers stated.
Doc Talk
Multivitamins: helpful or harmful?
For many of us a daily multivitamin is an inexpensive nutrition insurance policy. But not all doctors agree on multivitamins.

Street choice
Gear up to indulge in some gastronomic delights as the Street Food Festival kicks off at JW Marriott Chandigarh. The festival offers seven different cuisines and food enthusiasts can pick delicacies of their choice from Oriental, Arabic, Thai, Malaysian, European, Coastal, North and South Indian cuisines.
chatter box
All about women and colours