PUNJAB

HARYANA

JAMMU & KASHMIR

HIMACHAL

REGIONAL BRIEFS

NATION

OPINIONS

LETTERS

BUSINESS

SPORTS

WORLD


Thursday, March 8, 2012, Chandigarh, India
Edition update time 2:30 am (IST)


Latest news, updated on March 9, 2012, at 12:10 pm
Jat protesters on rampage, Army called out in Hisar
n Agitators torch police post, rest house & district judge's car n Rail, road traffic hit in parts of Haryana n All educational institutions shut in Hisar till March 9
Chandigarh, March 7
The issue of Jat reservation rocked the Haryana Assembly as well as parts of the state a today with pro-quota agitators indulging in arson at many places, particularly in Hisar district a day after a protesting youth was allegedly killed in "police firing". Protesters torched a police post and a Power Grid Corporation of India rest house and damaged an ATM in Hisar Cantonment.




Agitators block the tracks at the Ramayan rail crossing in Hisar (left) and A smouldering Hisar Cantonment police post after arson on Wednesday. Photos: Manoj Dhaka .
Fresh setback for Kingfisher
IATA suspends airline for not clearing dues
New Delhi, March 7
Kingfisher Airlines, which is struggling to stay afloat, today suffered yet another blow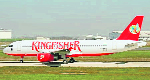 with global airlines body IATA suspending it for not clearing its dues. The ailing carrier said payments would be made as soon as tax authorities de-froze its bank accounts. This was the second time in just over a month that the airline was suspended on the same count from the IATA Clearing House (ICH) through which airlines and related firms settle accounts for services provided by them to other such companies.