ART & LITERATURE

'ART & SOUL
ENTERTAINMENT

TELEVISION

GARDEN LIFE

NATURE

FOOD TALK

CONSUMERS, BEWARE!

FASHION

GLOBOSCOPE

BRIDGE

ULTA-PULTA
EARLIER FEATURE

TRAVEL

RELATIONSHIPS

DREAM THEME

TIME OFF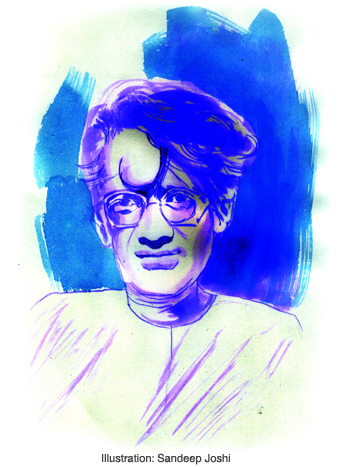 Brave, bold
trailblazer
Urdu's enfant terrible
Rakshanda Jalil recaps the life and works of Saadat Hasan Manto, the quintessential storyteller, who left an indelible mark on the literary history of the Indian subcontinent
In an impudent epitaph written for himself a year before his death, Saadat Hasan Manto (1912-1955) wrote: 'Here (Manto) lies buried – and buried in his breast are all the secrets of the art of story-telling.' Immodest, yes, but by no means outrageous, for it is true that whatever the merits of Manto's style and craft, he was a story-teller par excellence. He had the rare gift of being able to narrate the most blood-curdling events with faithful accuracy and an unsparing eye for detail.
Ants can smell rivals
Weaver ants share a collective memory of odour of ants in rival nests, similar to how sports fans know one another instantly by their unique colours, a study reveals. It gives them an edge about rivals even before they encounter them, said study leader Mark Elgar, professor of zoology at the University of Melbourne.
Coping in Kabul
Caught in the political crossfire, the Sikh minority in Afghanistan is living on the edge with no hope for future. Bobby Singh Bansal highlights the plight of the everyday existence of the community
The Sikhs and Hindus of Afghanistan have been an integral part of the Afghan culture and history since the early 19th century. Most of them arrived there during the 1820s as part of missions sent by Maharaja Ranjit Singh to promote trade.
Mademoiselle no longer
Alexandria Sage
Official French documents will no longer force women to reveal their marital status by requiring them to choose the title "Mademoiselle" or "Madame". French Prime Minister Francois Fillon has ordered to remove the title "Mademoiselle" — used for unmarried women and implying a youthful immaturity — from official documents. From now on, people will get just two choices: "Madame" or "Monsieur".
The lure of Mt Fuji
Japan's highest peak, surrounded by five lakes, is a manifestation of Japanese graciousness. However, its serenity cannot be taken for granted, writes Niku Sidhu
On most clear days, the majestic Mt Fuji manifests itself in full glory as you descend towards Narita Airport. It may not claim fitting rivalry with the mighty Himalayas, but at 3776 m, Japan's highest peak, surrounded by five lakes, is not to be trifled with either. A manifestation of Japanese graciousness, the serenity of Mt Fuji cannot be taken for granted, nor that of the people it stands sentinel over.
Mooted, a live-in for 'grandparents'
An organisation is proposing live-in relationships to unite lonely elders, writes
Mauli Buch
Advocating the need for companionship in the autumn of life, a Nagpur octogenarian has taken up the task of mooting live-in relationships for senior citizens, who are leading a lonely life after outliving their spouses. "The relationship might not be sexual only. They can live together as friends or define their own relationship," says Arvind Godbole, 81, who is spearheading the initiative.
There's much more to Dia
Shoma A. Chatterji on the versatile beauty, who is also involved in a number of social causes, besides acting
Dia Mirza, the beautiful young lady who won the Miss Asia Pacific beauty contest in 2000, is known for her involvement in social activism in different ways. But acting remains her first love, which she stepped into after attending an acting workshop under noted theatre personality Feroz Khan. She pushed the borders of her involvement in cinema recently by taking on the female lead in a Bengali film called Paanch Adhyay directed by noted film journalist Pratim Dasgupta. She is playing Ishita, a Kolkata-based, middle-class school teacher, who falls in love with Arindam, an ad filmmaker.