Stage set for oath-taking ceremony
No clue who will be Chief Minister
Seema Sharma
Tribune News Service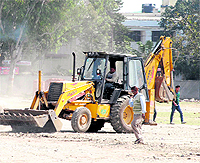 Dehradun, March 11
The patriotic songs blaring from the loudspeakers installed around the stage set for the swearing-in ceremony for the new Chief Minister of the state appear out of place as the Congress Party is still grappling to pick up a name for the position of Chief Minister.
The administration has set the stage, mood and euphoria with one single stroke. Additional District Magistrate Vinod Suman reasoned, saying: "It takes time to make all the arrangements for the oath
ceremony of the Chief Minister. So the administration has done it's duty in completing all the tasks related to the ceremony. Now oath ceremony can take place at any time."
Seeing the precariousness of the political situation which may command an oath ceremony at any point of time, the administration certainly does not want to be caught off-guard. Suman, however, made it clear that the preparations made by the administration might not be the final as the choice of venue would very much depend on the new Chief Minister. "We have made our preparations to deal with any situation. If the new Chief Minister wants, the oath ceremony can be held at Parade Ground or wherever he desires so. The administration will make fresh preparations if it requires so," he said.
He said there was nothing abnormal in this as even in the past, the preparations for the oath ceremony had been made well in advance. In the present scenario, it stood out in contrast as the 'man for the covetedpost' is missing on the stage.
He refused to comment on music being played on the stage. Some Congressmen who could be seen roaming around the stage added their bit with music to enhance the celebratory ambience.
The onlookers indeed felt intrigued to see the stage set, huge tent perched up, chairs arranged without any function being held on the spot for the rest of the day.
The agile and awakened voters of the city, who are keeping a tab with the political developments taking place in the state in connection with the race that is on for the post of Chief Minister, could be seen indulging in hot discussions on the subject while standing around the stage. In other words, the very scene of the stage encouraged animated discussions on the subject. Jagmohan Bisht, government servant, said: "The administration has literally set the stage for the
Congress to come out of its confusion over the subject and finalise a name as every one - from the administrative machinery to the public - is waiting for the suspense to get over."
The security personnel too have taken over their positions in and around Parade Ground to guard the venue.