Weapon owner held in BSP nominee shooting case
Dehradun, March 2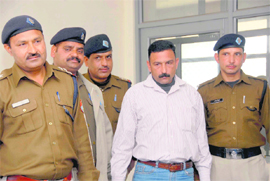 The police today arrested Ravi Malik of Prem Nagar in the shooting case of BSP candidate from Mussoorie Manoj Sharma. Malik's pistol had been used to shoot at Manoj on February 29. The prime accused, Lalit Yadav, is still absconding. Meanwhile, Manoj Sharma, who was under treatment at Jolly Grant Hospital, has been admitted to Medanta Hospital, Gurgaon. His condition is stated to be stable.


Ravi Malik, one of the accused in the shooting case of BSP candidate from Mussoorie Manoj Sharma, in police custody in Dehradun on Friday. A Tribune photograph

Spring festival begins today
Dehradun, March 2
A two-day annual spring festival will begin at the Raj Bhavan tomorrow. The annual show will bring under one platform commercial flower growers, hobbyists and entrepreneurs showcasing the floriculture potential of the state.
Raslila by Braj artistes in Mussoorie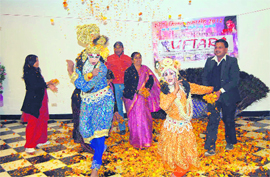 Mussoorie, March 2
Residents of Mussoorie were enthralled by a scintillating performance by artistes from two different cultures, namely Braj and Garhwali, during the Holi Milan function in Mussoorie under the aegis of PB Films and Mussoorie Films, Televisions and Radio Artist Association.




The Holi Milan function under way in Mussoorie on Friday.

Dr Jain is VC of Doon University
Dehradun, March 2
Governor Margaret Alva has appointed Dr Vinod Kumar Jain as Vice-Chancellor of Doon University, Dehradun, for a period of three years from the date of assuming office.
Sorry state of affairs for admission seekers to B.Ed courses
Dehradun, March 2
The irregularity in B.Ed and BP.Ed courses in Uttarakhand has portrayed a sorry picture for youths. The directives by the higher authorities of Indira Gandhi National Open University (IGNOU) to stop new admissions from the year 2012 in six convergence centres of Uttarakhand have left the aspiring teachers puzzled. Many had already migrated to other states of the country due to the one-year delayed academic sessions in the self-financed B. Ed courses of HNB Garhwal University.
Police Water Sports Championship
Uttarakhand, Punjab, ITBP win gold medals
Roorkee, March 2
Host Uttarakhand, Punjab and the Indo Tibetan Border Police (ITBP) clinched gold medals in various disciplines on the second day of the All India Police Water Sports Championship here today.
Folk songs, dances mark day 2 of union week
Dehradun, March 2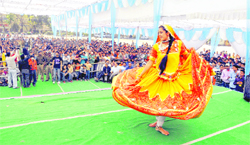 Amid colourful performances by students and local artistes, the festivity on the second day of the union week at DBS PG College today was filled with great enthusiasm.




A girl gives a performance during the union week celebrations at DBS College in Dehradun on Friday. A Tribune photograph

Food Security Bill discussed
Dehradun, March 2
Dr Anil Kumar Singh, secretary-general of SANSAD, today said the Food Security Bill in its present form suffered from various inadequacies. "The Food Security Bill along with two other proposed measures of the government, National Seed Bills and National Rural Livelihoods Mission, are going to influence the livelihood of people. The Food Security Bill, considered to be the world's largest scheme, targets 67 per cent coverage of our population," he said.
CM celebrates Khadi Holi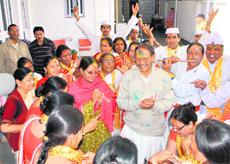 Dehradun, March 2
Uttarakhand Chief Minister Bhuwan Chand Khanduri organised Kumaoni Khadi Holi at his residence here today. Khanduri applied colours on guests and extended warm greetings to the people of entire state on the occasion. He wished everybody happy and joyous Holi while prayed for the development of the state.




Chief Minister BC Khanduri celebrates Holi with his wife Aruna at his residence in Dehradun on Friday.


Clarification on signatures
Dehradun, March 2
The Uttarakhand electoral office yesterday said at the time of counting, the signatures of the service voters on form 13-A would not be matched with the original application form as stated earlier.

Doon club beat DR Cricket Academy
Dehradun, March 2
Doon Tigers Cricket Club defeated DR Cricket Academy (DRCA) by five wickets in a match in the 60th Dehradun District Cricket League Tournament played on the OFD grounds here today.

Srijan-2012 fest concludes on happy note


Dehradun, March 2
A week-long annual fest, Srijan-2012, of Dolphin PG Institute of Biomedical and Natural Sciences, concluded here yesterday with a fete on the college campus.

DIG rewards police team for uniting lost boy with family


Dehradun, March 2
Deputy Inspector General (DIG), Garhwal Zone, Sanjay Gunjiyal, rewarded the police team led by Circle Officer, Dalanwala, Shweta Chaubey, for uniting a 14-year-old boy Pradyuman with his family members on February 27.