Potholed roads a major problem in Mohit Nagar

Seema Sharma
Tribune News Service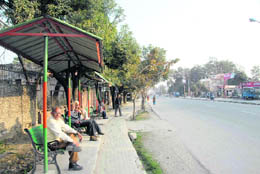 Roadside shelters built by the councillor in ward no. 53 in Dehradun. A Tribune photograph

Dehradun, February 26
Residents of Mohit Nagar, ward no. 52, are facing problems due to poor condition of roads. Digging up of the roads to lay sewerage pipes have made the matter worst for the residents of the area.
KL Bhatia, a resident, said. "It is difficult, especially for old people, to walk on the potholed roads. Many of the people got injured in the past because of this."
BM Dabral, however, drew solace from the fact that since roads have already been dug up for sewerage lines, they would get into shape after carpeting is done.
"Earlier the roads were broken at many places. Despite our complaints, some parts of the roads were not repaired. Now they have dug up the roads and they would carpet all of them. The potholes would also get repaired in the process," he said.
Sushma Rani talked about the sewerage problem being faced by the residents of the ward. "The residents have tough time dealing with choked or overflowing sewerage. Problem in one house affects the others. Now we are hopeful that the problem will be fixed soon," she said.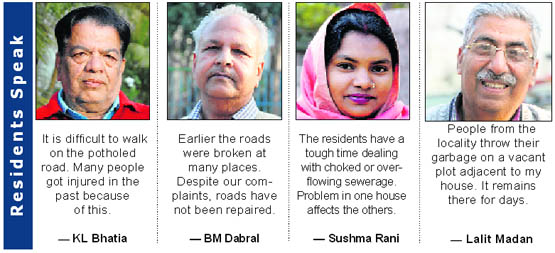 Councillor Amita Singh said it would take approximately three months to complete the sewerage and carpeting work in her ward. About 80 per cent of the area has been completed so far under this project."


Representative's View

It will take three months to complete the sewerage and carpeting work here. The work on about 80 per cent of the area has been completed. — Amrita Singh

The problem of garbage is also being redressed. Lalit Madan, a resident, complained, "People from the locality throw their garbage into the vacant plot adjacent to my house. It remained there for days unless I hired a private sanitation worker to clean it up. Now the councilor has got a wall erected around it but a few still throw garbage into it."
Amita Singh said the door-to-door garbage collection started under the Jawaharlal Nehru Urban Renewal Mission was slated to begin in her ward as well. Before that starts, she herself supervises the cleanliness in her ward. A group of sanitation workers could be seen coming to her house and giving their reports of the day to her. "I personally take their attendance in the morning and allot them the patch of the area to be cleaned. In the day, I supervise their work," she said.
Active in her work, she got many development-related projects cleared, not only from the Dehradun Municipal Corporation but also from the Mussoorie-Dehradun Development Authority for her ward. This includes several drains, hand-pumps, tin shades and a sitting arrangement for senior citizens before Wadia Institute.