2 held for theft in Doon, goods recovered
Dehradun February 17
The police has arrested two persons for thefts in different areas here yesterday. Ashok alias Rajender alias Raju, who hails from Chandosi in Muradabad and lives at Chidowali at Patel Nagar, was caught for stealing a camera, an LCD and a mobile set.
Anuj steers Chandragupta to victory in cricket tourney
Dehradun, February 17
On the fourth day of the Rashtriya Indian Military College (RIMC) Inter-Section Cricket Tournament tosay, two matches were played.
Thousands of Kanwariyas throng Haridwar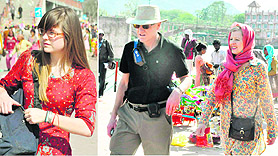 Foreigners savour blend of faith and devotion
Haridwar, February 17
With Haridwar being a world renowned religious-pilgrim-tourist city, in one way or the other it attracts people from all over the world. Tens of thousands of Kanwariyas are pouring in day and night, and to see the immense faith, devotion and colourful Kanwariyas, foreign tourists can be seen these days at Ganga ghats.
Foreign tourists at Malviya Ghat in Haridwar on Friday. Tribune photograph: Rameshwar Gaur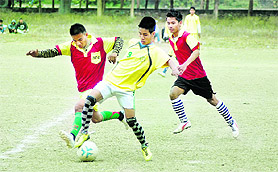 Shivalik Club to take on Vijay Cantt in semis
Dehradun, February 17
Two army teams, Shivalik Club and Five Vikas, entered the semi-finals of the Narayan Gurung memorial football tournament being played at Mahendra Ground here today.
Players in action in a match in the Narayan Gurung Memorial Football Tournament in Dehradun on Friday. A Tribune photograph

Proposals on nursing schools rejected
Dehradun, February 17
After finding the proposals not according to the Indian Nursing Council norms, the empowered committee on medical education today rejected six proposals regarding setting up of nursing schools.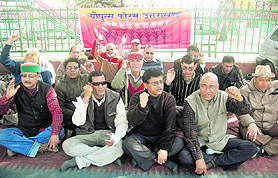 PFU protests against RTI activist's murder
Dehradun, February 17
Members of People's Forum of Uttarakhand (PFU) congregated at Deen Dyal Upadhyaya Park here today in a protest against the killing of RTI activist Jagdish Chauhan three days ago.
Members of the People's Forum of Uttarakhand stage a protest in Dehradun on Friday. A Tribune photograph
Victory for Five Star Club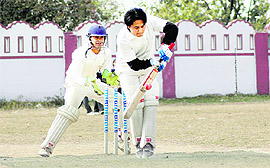 Dehradun, February 17
Five Star Club won by 5 wickets against Khalsa X1 in the 60th District Cricket League match played at Survey of India stadium, Dehradun, today. Batting first the Khalsa team was all out at a score of 131 runs. Honey scored highest 61 runs.
A batsman plays a defensive shot in a match in the 60th Dehradun District Cricket League in Dehradun on Friday. A Tribune photograph
Volleyball c'ship from today
Dehradun , February 17
The Dolphin Volleyball Championship 2012 will be held at Dolphin Institute from February 18 to 21. A total of 18 teams in the boys' category and six in girls' category would take part in the championship.
IT raids on Doon builders
Dehradun, February 17
Director General, Investigation, Lucknow, and Director, Income Tax, Investigation, Kanpur, sent a team led by Income Tax (IT) officer Chitranjan Das, who carried out raids in the houses and offices of the local
DMC drive against encroachment
Dehradun, February 17
Dehradun Municipal Corporation (DMC) launched an anti-encroachment drive at Gabar colony and Canal Road in the city today. The team led by Additional Mukhya Nagar Adhikari, Harak Singh Rawat, took control of its one-bigha land in Gabar Colony where a builder from Delhi had built a big lawn over the land. The team broke the wall erected around it.
BRO workers buried in landslide saved
Pithoragarh, February 17
Seven Border Roads Organisation (BRO) workers, who were caught in a sudden landslide at Jogyura, near Jauljibi on the Pithoragarh-Dharchula road today, were saved by local youths and police jawans.
2 held for poaching
Dehradun, February 17
The Rajaji National Park authorities yesterday arrested two persons from the Shyampur range of the park.