Six persons attacked by rabid stray dog in Mussoorie
Our Correspondent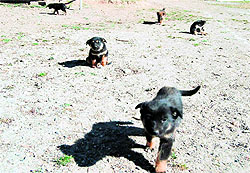 Stray dogs in Mussoorie
Mussoorie, February 12
The terror of the rabid canines continues unabated in Mussoorie as six persons, including two children, were attacked by a rabid stray dog in Husainganj area yesterday.
According to the locals, the two children, Kartik aged 5 and Divansh aged 6, were playing outside their home when a rabid dog attacked the two and injured them seriously. The injured were rushed to the hospital and administered rabies injection at the primary health centre in the town. The diseased dog went on and tried to attack others in the neighborhood, too. Following that, the angered locals, followed the dog with sticks and beat it to death.
The residents of the town are angry at the Municipal Council for not doing anything to control the stray dog population that has risen alarmingly in the town.
More than 200 dog bites have been reported so far according to government hospital officials but the problem persists, forcing the residents to live under the grip of fear.
Sunita Kaitura, the local BJP leader, was of the view that due to the increase in number of stray dogs, they have become even more aggressive to the point of biting without any rhyme or reason.
Upendar Singh, shopkeeper at Jhoola Ghar, said that the schoolgoing children were at greater risk due to the presence of a large number of dogs on the Mall Road.
Pritam Singh, a resident of Landour Bazaar, was of the view that previously the rabid stray dogs were given poison but the practice has been stopped due to unknown reasons.
The Municipal Council health official, N. Bisht, admitted that street dogs had become a menace for the town and the MC had also conducted an exercise last year to relocate them from the town to pet homes elsewhere but due to insidious breeding habit, the population has increased once again. Bisht informed that earlier Municipal Council used to poison the rabid dogs but the practice was stopped after outrage from animal lovers' organisations. Bisht further said that the council had also provided land to the animal lovers' organisation in the town to establish animal shelter but nothing has been done so far.
Member of the animal lover's orgnisation Yash Gupta informed that the work was on at the land provided by the council and the animal shelter would start functioning soon where stray animals would be kept and treated humanely to provide relief to the residents of the town.
The residents, however, said that they were already living under the fear of monkey attacks and with this stray dog problem they would have remain confined indoors if some permanent solution is not found soon.