Doon faces LPG shortage
Dehradun, February 10
The shortage of LPG cylinders in the city has increased in the last couple of months. Customers are not being provided home delivery services by the gas agencies as the people can be seen standing in long queues outside the agency offices in the morning to take the delivery of gas cylinders.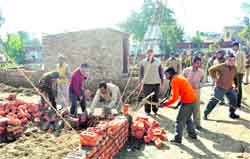 Four illegal houses razed
Dehradun, February 10
A team led by Harak Singh Rawat, Additional Mukhya Nagar Adhikari, Dehradun Municipal Corporation, demolished four illegal houses at Chander Nagar here today. Another team led by Rajesh Naithani and Mandan Gopal also removed few rehries from the Gandhi Park and Rajpur Road.

Workers of the Municipal Corporation remove encroachments on the Tyagi road in Dehradun on Friday. A Tribune photograph
MDDA officials inspect dilapidated buildings
Mussoorie, February 10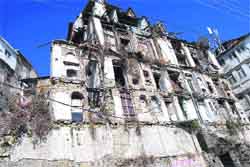 Acting on the suggestions of the Supreme Court Monitoring Committee (SCMC) and to frame new guidelines, officials of the Mussoorie-Dehradun Development Authority today inspected 600 dilapidated and hazardous buildings identified by the Disaster Management and Mitigation Centre during a survey last year.





The Kohinoor building at Landour Bazar, Mussoorie, in a state of dilapidation.
Women have greater role to play: ICFRE
Dehradun, February 10
Director-General of the Indian Council of Forestry Research and Education (ICFRE) Dr VK Bahuguna said women had a greater role to play in climate change mitigation efforts as they were more good resource managers than men.
Premji foundation holds Bal Chaupal
Dehradun, February 10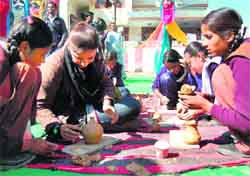 For the development of students as well as to strengthen the academic curriculum, the Azim Premji Foundation for Development organised a day-long Bal Chaupal here today.The Bal Chaupal was a fete-cum-activity ground where students from nearby government schools and some private schools participated. They went through several experiences at the institute premises with pottery class, puppet making with old newspaper, how to maintain and repair bicycle, theatrical activities, origami, science experiments and painting.

Schoolchildren make clay products at Bal Chaupal in Dehradun on Friday. A Tribune photograph
Students display paintings, models made of waste material
Dehradun, February 10
From pen stands made of bangles to science models and useful items made from recycled material, students of Junior School at St Joseph's Academy demonstrated their skills and artistry at the Art and Craft Exhibition here today.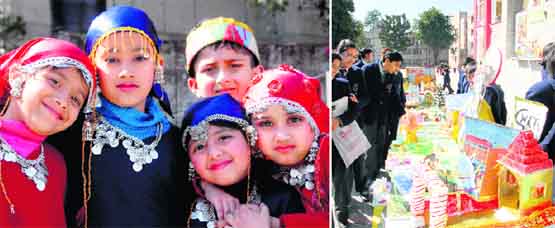 Students in Kashmiri dress during the annual arts and crafts exhibition at St Joseph's Academy in Dehradun on Friday; and (right) items on display. A Tribune photograph
Swajal scheme wins kudos from Centre
Dehradun, February 10
Chief Secretary Subash Kumar today said impressed with the Uttarakhand model of Swajal under way in the state, the Central Government had decided to implement it in the rest of the country.
Unauthorised drug factory sealed
Dehradun, February 10
A team of the Mussoorie-Dehradun Development Authority today sealed an illegal drug factory on Saharanpur Road.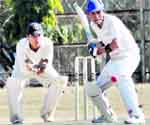 PWD XI, Diamond Cricket Club win
Dehradun, February 10
PWD XI and Diamond Cricket Club won their respective matches in the 60th Dehradun District Cricket League Tournament under way at the Survey Stadium and the OFD grounds here today.




A batsman in action in a match in the 60th Dehradun District Cricket League in Dehradun on Friday. A Tribune photograph