Birdwatching event on World Wetlands Day
Tribune News Service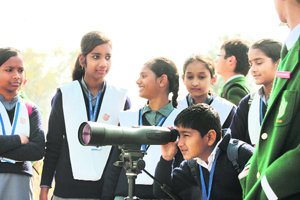 Schoolchildren watch migratory birds at Asan Barrage during the World Wetlands Day celebrations on Thursday.

Dehradun, February 2
As part of the World Wetlands Day celebrations, WWF-India today organised a birdwatching expedition event at Asan Barrage, Dehradun, in collaboration with Uttarakhand Forest Department, keeping in mind this year's theme of 'Responsible tourism supports wetlands and people.'
Every year, World Wetlands Day is celebrated the world over to mark the date of the signing of the Convention on Wetlands, called Ramsar Convention, on February 2, 1971, in the Iranian city of Ramsar. Actions aimed at raising public awareness of wetland values and benefits in general, and the Ramsar Convention in particular have been taken since 1997 by government agencies, NGOs and groups of citizens at all levels of the community.
This year, highlighting the theme of 'Responsible tourism supports wetlands and people,' WWF-India organised a birdwatching expedition at Asan Barrage for children from five Dehradun-based schools and Doon University, led by Dr. Rashid Raza, WWF-India, and Dr. Dhananjay Mohan, Wildlife Institute of India (WII). This was intended to help them identify birds and to understand how they are dependent on wetlands for survival. Following this, the children were encouraged to paint their thoughts, views and opinions on white banners erected between trees, which were displayed later at the barrage for visitors to see.
From WWF-India, Dr. Harish Kumar, Head, Terai Arc Landscape Programme, Dehradun, spoke about the significance of the theme considering that Uttarakhand is a popular tourist destination and how a more 'responsible' kind of tourism can make all the difference.
Pankaj Chandan, Head, High Altitude Wetlands Conservation Programme, India, elucidated the conservation work being done under the programme and how bird migration depends on the good health of these wetlands.
Chief Conservator of Forests (CCF)-Garhwal, D. V. S. Khati, Uttarakhand Forest Department, released the WWF-India poster on 'High Altitude Wetlands of Uttarakhand' and sent out a plea to everybody to take on the responsibility of protecting their wetlands in order to secure water and other natural resources for future generations.
In addition, Ragini Letitia Singh, Senior Communications Officer, WWF-India, talked about the Green Hiker campaign and showed a short animation film on the same. Green Hiker aims to build awareness about responsible tourism among tourists, tour and travel operators and service providers that will enhance the visitor experience while safeguarding the natural beauty and resources of the state.
The World Wetlands Day celebration was coordinated by the WWF-India Dehradun Programme Office through Dr. Jatinder Kaur, Coordinator and the team comprising Pushpiner Singh, Prashant Taryal, Prashant Gaur.