Republic Day celebrated with fervour
Tribune News Service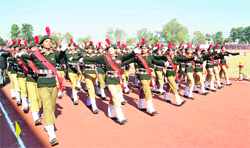 NCC cadets participate in the Republic Day march past in Dehradun on Thursday. A Tribune photograph
Dehradun, January 27
State Governor Margaret Alva paid homage to freedom fighters on the occasion of the 63rd Republic Day yesterday.
The Governor first hoisted the Tricolour at the Raj Bhavan and took the salute from Army, ITBP, SSB, Homeguards and PRD personnel.
Amid the beautiful and inspiring patriotic tunes played by the army and police bands, the governor conferred the Utkrisht Sewa Medal on Company Commander JC Pathak, DIG PD Bhatt, DIG Rajesh Shah and DIG Nirvikar. She greeted the people of the state and exhorted them to exercise their right to vote in the Assembly elections.
The chief guest gave away the certificates and gifts to the children. Later, saplings were also planted.
The highlights of the an hour-long programme were a Maharashtrian dance by girl students and two patriotic songs.
HARIDWAR: Various functions were held in the district on Republic Day yesterday.
The Tricolour was hoisted at government buildings and private one's too with people seen holding flags on their hands.
At Roshanabad, District Magistrate Haridwar D Senthyl Pendiyan hoisted the Tricolour and took the salute of the march past. On the occasion, cultural programmes were also organised.
Veteran freedom fighters from the district Nand Lal Dhingra, Shukla Chandra and Ram Krishan Verma were also felicitated on the occasion by the District Magistrate, recognizing their contribution during the fredom movement.
At BHEL-Ranipur, a grand Republic Day function was organised, where hundreds of people were present to see the marching contingents of the CISF, schoolchildren as well as colourful cultural programmes.
Executive director of BHEL Virendra Pandhi hoisted the flag and took salute of the parade. Rama Dhar Gautam, recepient of Prime Minister Shramjeevi award and Shram Shri award, was felicitated.
Annual Vishwakarma awards given to BHEL employees namely Raj Beer Singh, Vinod Kumar, Manful Singh, VK Sharma, Ravi Kashyap, MC Sharma, Balesh Kumar, Bhuvendra Kumar, MP Singh and IV George.
Various schools also celebrated Republic Day with the flag hoisting ceremony, followed by patriotic cultural song and dance extravaganza.
A grand carnival was organised at Academic Heights-Bachpan Play School, Jagjeetpur, where students and their parents took part.
A fancy dress show was also organised, wherein kids appeared like Mahatma Gandhi, Subhas Chandra Bose, Jawaharlal Nehru, Mother Teresa, Sonia Gandhi, Sachin Tendulkar, Rani Laxmi Bai, Tatya Tope, Tipu Sultan and Anna Hazare.
School director Nitin Ahluwalia, Krishan Sharma, Sandeep Ahluwalia, Meena, Arpita Deowari, Kunika Arora among others coordinated the whole event.
Saraswati Vidya Mandir, Mayapur, also organised a colorful Republic Day programme on its school premise. Patriotic songs were followed by the flag hoisting ceremony, Saraswati Vandana and singing of the National Anthem.