Quadrangular contest from Ranipur-BHEL
Sandeep Rawat
Tribune News Service
Haridwar, January 20
Newly carved Assembly segment in Haridwar district, Ranipur-BHEL, has been drawing attention even before election dates were announced, owing to a record number of ticket aspirants from this segment.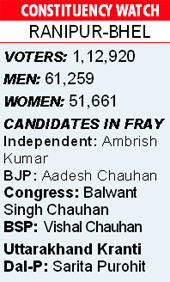 A whopping 70 Congress aspirants had applied for ticket from this segment, while from BJP there were 20. Now a total of 20 candidates are in the election fray from this seat, with a quadrangular contest being witnessed.
Surrounded by Haridwar (city), Haridwar (rural), Jwalapur and Piran Kaliyar segments, this is mostly a posh segment with Shivalik Nagar-Bharat Heavy Electricals Limited and industrial area of SIDCUL falling in this segment only.
Other prominent areas falling under this segment are Bahadrabad, Jwalapur, Ahmedpur Kadach, Salempur Mehdood, Annekikhetampur, Aurangabad of Jwalapur, Gurkul Kangri, Ward no 28 Mahila Mahavidyalaya and a dozen-odd villages.
Having a voter tally of 1,12,920, of which female voters account for 51,661 and male 61, 259, this segment is dominated by Kshatriya caste, which gets reflected in three prominent parties naming their candidates from this caste only.
Bharatiya Janata Party has fielded Aadesh Chauhan, while Bahujan Samaj Party has fielded Vikas Chauhan and Congress has given the ticket to veteran Balwant Singh Chauhan.
But with all these three candidates being Chauhan, the 15,000-odd Chauhan votes will not be going majorly to one single candidate.
This aspect may go in favour of former Congress and Samajwadi Party leader Ambrish Kumar, who is contesting as an Independent from this segment, after getting denied the party ticket by the Congress.
Being a legislator from Haridwar and a part of Jwalapur coming in this segment post delimitation, Ambrish has emerged of late as favourite.
With Muslim community also having a sizeable 20,000 voters presence and Dalits about 10,000, having a secular image will also benefit Ambrish making the contest quadrangular.
For Congress candidate Balwant Singh Chauhan, the road to the Assembly doesn't seem easy as he is not known to be quite active in the region for the past five years.
While young-dynamic Aadesh Chauhan making good inroads among youths and owing to his dedicated party worker image, he is getting good support from all the sections of his party.
Bahujan Samaj party is eyeing this Assembly segment, putting the onus on Vishal Chauhan to sail through with the 'elephant' symbol from this city segment.
Door-to-door campaigning has provided BSP with a lead of sorts in comparison to his rivals.
Women candidate Sarita Purohit of Uttarakhand Kranti Dal (P) will also cut votes due to her clean, down-to- earth image. Particularly among women, Brahmins and hilly voters, she will be eyeing a major pie of votes.
Local issues include lack of basic facilities such as health, hospitals and non-availability of primary health medical staff, lack of higher school educational as well as technical institutes, bad roads, sanitation problem, no government-run transport facility despite the segment having 100-odd industrial units, including the prestigious public sector unit BHEL.
Flood factor is also playing heavily on the minds of voters, as villages such as Anneki, Aurangabad, Hetampur and Rewali Mehdood got submerged during the monsoona season. Demand of affected villagers for making of embankments has also not been met till date.
Till date the battle of ballots is reaching its zenith as all the major four contestants are intensively seen campaigning door to door.