67% cast vote in Doon district
Dehradun, January 30
Nearly 67 per cent of the electorate today cast it's votes at the end of the polling in Dehradun district today. The polling proceeded peacefully in the district that has a total of 10 Assembly seats.


Former Chief Minister Ramesh Pokhriyal Nishank casts his vote in Dehradun on Monday; (centre) a 101-year-old woman Jamna Devi Arora in Dalanwala; and (right) former state CM Nityanand Swami gets his finger marked . Tribune photos

36 families of MDDA flats boycott poll
Dehradun January 30
Thirtysix families occupying EWS flats of the Mussoorie Dehradun Development Authority (MDDA), boycotted poll today. The residents felt cheated for getting no relief from the MDDA, which lost the case to a third party who claimed that the land where these flats were built belonged to him. The occupants have been served with a notice to vacate flats by January 30.
Cong: BJP's exit from state certain
Dehradun, January 30
The state Congress has expressed gratitude to poll officials for a peaceful polling in the state.
Big day for first-timers
Dehradun, January 30
Minu Khushwaha, a student of BA (II), GRD Girls College, was very upbeat as she was going to cast her vote for the first time.


Khanduri votes in Pauri, Rawat in Doiwala
Dehradun, January 30
While Chief Minister B.C Khanduri, who is in the fray from Kotdwar, exercised his franchise from Pauri Assembly seat, Opposition leader Harak Singh Rawat of the Congress, who is in fray from Rudraprayag, cast his vote at Doiwala, and Ramesh Pokhriyal, who is fighting from Doiwala seat on the BJP ticket, cast his vote from the Mussoorie Assembly seat. Similarly, Amrita Rawat, Congress candidate from Ramnagar Assembly seat, could not cast her vote from Ramangar as her name figures in the Pauri district electoral roll.
Various hues of voting in Dehradun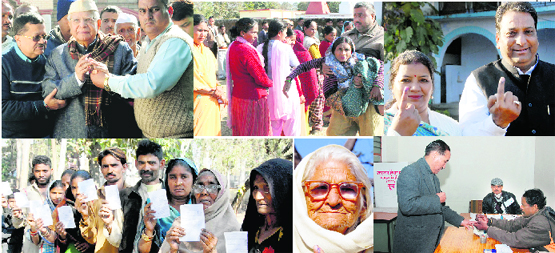 Top (left)Former state Chief Minister ND Tiwari goes to cast his vote at a polling booth in Dehradun on Monday. (middle)A relative taking a handicapped woman after she had cast her vote. (right) Dehradun Mayor Vinod Chamoli and his wife coming out of a polling booth. (Bottom (left)Members of the Gariya Lohar community stand in a queue to cast their votes at the Niranjanpur booth. (middle) Ram Pyari, a 92-year-old woman, shows her voting ink mark. (right) Chief Secretary Subhash Kumar gets his finger marked after casting his vote. Tribune phtographs

Death of CISF commandant on duty
Haridwar, January 30
Commandant Ajeet Singh Pawar of Central Industrial Security Force (CISF), who was on poll duty at Laksar, died due to a cardiac arrest.