Uttarakhand scholars pay tributes to Nautiyal
Body cremated in Haridwar
Tribune Reporters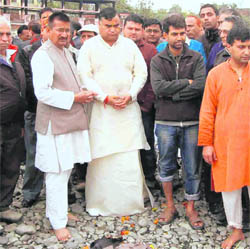 Prominent leaders and citizens of Uttarakhand pay homage to Vidhyasagar Nautiyal in Haridwar on Monday. A Tribune photograph
Haridwar, February 13
Hindi littérateur, communist ideologue and social activist Vidhyasagar Nautiyal was cremated at the Khadkhadi cremation ghat today. People from all walks of life attended the funeral.
Nautiyal passed away in Bengaluru yesterday, where had been undergoing treatment for some time. His sons Ispati and Panchsheel performed the last rites.
State CPM committee member Bachi Ram Kaunswal, a close aide of Nautiyal, has expressed grief over his death.
He said Nautiyal was a great human being and a comrade with sensitive human values. He is survived by his wife Deveshwari, sons Ispati and Panchsheel, daughters Anita, Antikshra and Bijli.
Among others who paid tributes to Nautiyal were Samar Bhandari, Kishore Upadhyay and Satpal Brahamchari.
PITHORAGARH: Littérateurs, writers and political activists across Kumaon region today paid their tributes to Vidhyasagar Nautiyal, who passed away on Sunday in Bangalore. His body was cremated today in Haridwar. Political activists in Almora, Pithoragarh and Champawat assembled and praised the literary and revolutionary contribution of Nautiyal.
"Nautiyal was born during feudal times and witnessed the exploitation of the poor as well as disparity in society, which snatches from a poor man his pride of being human being. These minute observations in his childhood created a writer in Vidya Sagar, for whom writing was an instrument of social change," said Dr Ram Singh, a historian and Hindi scholar.
The political activists in Pithoragarh remembered Nautiyal as a CPI activist who stood by the hill people till the last moments of his life. "Nautiyal, as all-India president of Students Federation of India, promoted Communist ideology among student and paved the way for further expansion of pro-people politics in the country," said Amit Joshi, district president of SFI.
At Almora, the political activists gathered in an office of a newspaper and remembered Nautiyal as an inspirer of Uttarakhand separate state movement for common Pahari villagers. "We have been highly inspired by his writings and his contribution to pro-people movements, be it Praja Mandal movement before Independence or anti-Tehri Dam movement after it," said Shamsher Singh Bisht, a political activist of Kumaon region and president, Uttarakhand Lok Vahini.
Other writers and poets, including Dinesh Tiwari, PC Tiwari and others also remembered Nautiyal for his writings on the background of hill life. "His autobiography titled 'Mohan Gata Jayega' represents the pains of life in hills, life of now defunct Tehri, and his feelings towards human relations in life at various phases," said Naveen Bisht, a Kumaoni poet and journalist.
The writers and journalist in Champawat district also offered their respects to Nautiyal and felt that his loss to the Uttarakhand society and polity could not be compensated in the near future. "Nautiyal lived for poor pahari people all his life," said Dr Paramanand Chaube, a retired PG college teacher and Hindi scholar.
"The writings of Nautiyal, which began in 1949 in the form of Mook Balidan, continued for the next fifty years till he completed Bagi Tehri in 2007. Vidya Sagar Nautiyal lived a life of a committed littérateur as he lived what he wrote," said Dr Chaube.
MUSSOORIE: Eminent authors from Mussoorie mourned the death of Hindi litterateur, social activist and political leader Vidhyasagar Nautiyal who died after prolonged illness at Bangalore yesterday. They termed it as an irreparable loss to the state.
Ganesh Shaili, an author and a resident of Mussoorie, while remembering the revolutionary writer said it was sad that Nautiyal was no more. He recollected that he had met Nautiyal in 1970 when he was an MLA in Tehri and found that he was a dedicated communist and ardent revolutionary who worked for downtrodden and neglected people of the state. People like Vidhyasagar gave Uttarakhand the recognition it needed through their writing skills.
Eminent historian and author of 'Mussoorie Ek Dastavez' Jaiprakash Uttarakhandi said Nautiyal was pioneer of the communist agitation in the state and his contribution in the field of literature was unprecedented.Uttarakhandi further said he first met Nautiyal during the communist movement and when he was contesting the 1970-elections.
CM pays homage to Nautiyal
Uttarakhand Chief Minister BC Khanduri today paid homage to Vidya Sagar Nautiyal, a noted literary figure and political activist, here today.
Vidya Sagar Nautiyal died in Bangalore on Sunday and his mortal remains were brought to his residence here.
Khanduri went to his residence and paid floral tributes. Speaking on the occasion, Khanduri said the death of Vidya Sagar Nautiyal had created a void in the literary and political circles in Uttarakhand.
He recalled his long struggle against the tyranny of the feudal kingdom of Tehri and his later struggle for the common masses. He said Vidya Sagar Nautiyal possessed a sensitive heart and a keen eye that was reflected in his writings that highlighted the plight of the poor common hill people.
A large number of people from all walks of life, including leaders of the Communist Party of India (CPI), paid floral tributes at his residence. Later, his body was taken to Haridwar for cremation.