Sports offer wide career options to girls
Sandeep Rawat
Tribune News Service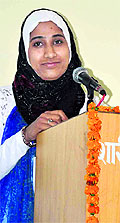 Bilquis Bano from the University of Kashmir delivers a lecture on the second day of an international conference at Gurukul Kangri University in Haridwar on Saturday. Tribune photo: Rameshwar Gaur

Haridwar, February 25
There is a need for girls to study physical education and sports sciences as a subject as contrary to usual perception it offered a wide array of career options to them.
This was stated by women delegates on the second day of the international conference on "Global Innovations, Strategies and Policies in Physical Education and Sports Sciences" at Gurukul Kangri University here today
The delegates cited examples of various sportswomen, coaches and sports scientist who had excelled in the field and many who had even performed well at the international level despite being from a poor family and having no knowledge of sports science.
Bilquis Bano from the University of Kashmir said though women in Jammu and Kashmir belonging to orthodox families had to face restraints, they had enormous talent, stamina, skill, strength and will for sports.
Bano added hill states needed a specific sports policy for girls as due to lack of government and family support and social set up they hesitated to take up sports. But if given enough opportunities they could excel in sports as well.
Prof BS Rathi from Rohtak University said girls needed to ensure that they opted for sports as a long-term career option which they could pursue even after marriage.
Simon Paris, a delegate from the UK, said yoga had become popular worldwide with the West recognising its benefits as "both physical and mental education and sports.
He said more people were taking to yoga and many yoga centres were opening up in the US and Europe for which specialised teaching was needed. India had a major role to play in this direction, he added.
Prof KA Tarzan, Dean, University of Kashmir, Prof Swatantra Kumar, Vice-Chancellor, Gurukul Kangri University, Dr RKS Dagar, Dean, Physical Education, Gurukul Kangri, Dr Satya Dev Nigmalankar, Dr Prabhat Sengar, Dr Shiv Kumar Chauhan and Dr Ajay Malik were among others who spoke.