Power department staff, councillor adamant
Tribune News Service
UP in arms
More unions join strike today
CM urged to intervene
Kukreja's wife lodges cross-FIR against 10 employees
Dehradun, February 29
The issue of slapping of line man Sohan Singh Rawat by councillor Surender Kukreja on Monday has snowballed into a big controversy. The administration, the police, the Dehradun Municipal Corporation (DMC), Uttarakhand Power Corporation Limited (UPCL) and even the Chief Minister too have been involved to resolve this issue.
Besides a strike called by the Electricity Distribution Central Division (EDCD), which was supported by unions of South and North divisions, the other unions of the power department, the Urza Kamgar Sangathan, the Hydro-electric Power Union and unions of officers namely the Engineers Association and the Junior Engineers Association of the power corporation too have announced an indefinite strike from 2 o'clock from Thursday afternoon.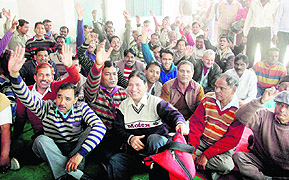 Power employees hold a demonstration in Dehradun on Wednesday. A Tribune photograph

The unions have sounded the Managing Director, Uttarakhand Power Corporation Limited (UPCL), to take precautions to ensure the safety of the sub-stations. They also said the management would be responsible if any disturbance took place in the power generation or distribution in the state. Any defect in feeder, electric transmission or public complaint would not be attended. The equipment worth crores of rupees would also lie unattended in the sub-stations.
Meanwhile, the councillor lobby led by Surender Kukreja met Chief Minister BC Khanduri this evening to urge him to intervene in the matter. Khanduri assured them that he would try to resolve the matter by discussing it with the officers concerned.
Mayor Vinod Chamoli too heard the arguments of Kukreja and other councillors who congregated on the DMC premises against the alleged arbitrariness of the employees of the power department.
Chamoli, who earlier was seen siding with the councillor, toned down by the evening and said, "I have asked both sides to sit and settle the issue."
He also talked to the District Magistrate and the MD, UPCL, about the issue.
Wife of the councillor Mahendra Kukreja too filed a cross-FIR against 10 employees of the EDCD, including a Junior Engineer and the Executive Engineer, for misbehaving and threatening to kill.
Representatives of various unions met Director, Operation, UPCL, AK Johri and then MD AK Jain to air their anger against the councillor. They returned unhappy on the insistence of patch-up by the MD.
"Be it the police, the administration or the power corporation management, all of them are harping on agreement with the councillor who is not even ready to apologise for his misbehaviour with our line man. The councillor, who hails from the BJP and has a good rapport with the Speaker, is throwing his weight around. But now all employees associations have taken a stand that until the councillor is arrested, they will not return to work."