M A I N N E W S
Only 5% families in India own a four-wheeler
Ajay Banerjee
Tribune News Service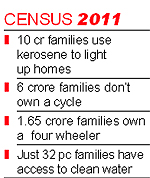 New Delhi, March 13
In a telling reminder of the wide chasm between urban and rural India, the latest Census being conducted by the Union Home Ministry has thrown up figures that would shock country planners. Despite significant improvement in living standards over the last census of 2001, the 2011 figures show a picture that is far from respectable for a country aiming to be on the global high-table of decision making.
Sample this: In nuclear India capable of routinely sending satellites into space, 31 per cent - 10 crore - out of 33 crore households across the country use kerosene for lighting homes. Nearly 7 per cent of the urban houses (presumably slums) use kerosene while 43 per cent rural homes use the fuel, indicating that they either do not have power supply or cannot afford it. This figure is an improvement over 2001 when 42 per cent households used kerosene for lighting purposes.
Union Home Secretary RK Singh released the final figures of the first phase of Census 2011 known as Houselisting and Housing Census here today.
If you thought that almost everybody in India was rushing to buy a car, just sample this: Only 5 per cent - some 1.65 crore -- families in the country own a personal four wheeler. Only 9.7 per cent - some 1 crore -- of the 11 crore urban families have a four wheeler.
Despite India's rapid economic growth, nearly 15 per cent families live in houses that have roofs made of grass, thatch, bamboo, wood, mud etc. Ten years ago, the figure was 21. 9 per cent.
The Census says only 32 per cent households use tap water for drinking from a treated (filtration plant) source. Only 47 per cent families have source of water (tap, well, etc) within the houses, while 18 per cent fetch drinking water from a source located more than 500 meters (villages) and 100 meters (urban) from their homes. In urban areas, 70 pc homes have tapped water supply, while just 30 pc enjoy the facility in the rural areas.
The data shows 61 per cent families across the country have kitchen for cooking. Nearly 79 per cent urban homes have it, while the figure is 53 per cent in villages. Surprisingly, 67 per cent of families use firewood, crop residue, cow dung and coal as fuel to cook. Only 29 per cent homes across the country have access to LPG, electricity or bio-gas as fuel for cooking purposes. In the urban areas, 65 per cent of homes have access to LPG while 20. 1 per cent use firewood and 7. 5 per cent kerosene for cooking.