PUNJAB

HARYANA

JAMMU & KASHMIR

HIMACHAL

REGIONAL BRIEFS

NATION

OPINIONS

LETTERS

BUSINESS

SPORTS

WORLD


EDUCATION

JOBS & CAREERS

HEALTH & FITNESS

SCIENCE & TECHNOLOGY

REAL ESTATE
Tribune analysis
Army Chief's Age Row



A matter of Honour vs Propriety


The second big anomaly


The Twist in the Tale


The General's Gambit


The General gives his 'word'


A matter of propriety vs integrity
Wednesday, March 14, 2012, Chandigarh, India
Edition update time 2:30 am (IST)


Latest news, updated at 4:00 pm
Bahuguna sworn in CM, sulking Rawat cries foul
Rumblings of revolt in Uttarakhand Congress on Day One
Dehradun/New Delhi, March 13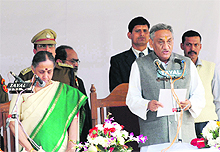 Former Mumbai High Court Judge Vijay Bahuguna, who is also an MP from Tehri, was today sworn in as the seventh Chief Minister of Uttarakhand with less than half the elected Congress MLAs present.

Uttarakhand Governor Margaret Alva administers oath of office to Vijay Bahuguna in Dehradun.

Badal to begin fifth innings as CM today
10 new faces in the list of 18 ministers
Chandigarh, March 13
The top leadership of the Shiromani Akali Dal (SAD)-BJP alliance is working overtime to define the shape of the Punjab Cabinet that will come into being tomorrow. After days of hectic parleys, the names of Cabinet ministers have finally been decided.
NCTC a necessity, will go ahead with it: Chidambaram


New Delhi, March 13
The government today made it clear that it had no plans of junking the proposed National Counter Terrorism Centre (NCTC) even as its main ally, the Trinamool Congress, demanded immediate withdrawal of the proposal to set up the anti-terror hub, stating it was infringing upon states' powers.