Study seminar on finance bill - 2012
Advocates, CAs decode income tax provisions
Sudhanshu Verma
Tribune News Service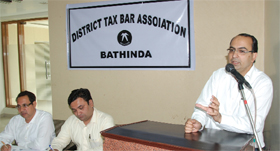 Neeraj Chawla, a chartered accountant, addresses a seminar organised by the District Tax Bar Association in Bathinda on Saturday. Tribune photo: Pawan Sharma
Bathinda, March 24
While decoding the provisions related to income tax in the Finance Bill-2012, chartered accountant (CA) Neeraj Chawla said the provisions were not beneficial for the common man.
The provisions seeking amendments in the Income Tax Act were apparently an attempt more to strengthen the income tax department than fulfilling the expectations of the common people that include salaried and middle-class businessmen, said the experienced CA Neeraj Chawla while talking exclusively to the Bathinda Tribune here today on the sidelines of a study seminar organised by the District Tax Bar Association, Bathinda.
"The common men wishes for tax relief in two forms, first from an increase in exemption limit and second from deduction and incentive, like tax relief on purchasing insurance policy," Chawla said, adding that on both the parameters, the common men would only be marginally benefited and would not be getting what they had expected.
The provisions were more for procedural clarifications, Chawla said.
It may be mentioned that the income tax rules may be amended through the Finance Bill.
Earlier, Chawla addressed the members of the Bathinda District Tax Bar Association, comprising advocates and CAs, who assembled at the discussion-cum-seminar to decode the income tax-related provisions in the Finance Bill presented by Finance Minister Pranab Mukherjee in the Parliament recently.
The nearly three-hour long discussion included the key-speaker Neeraj Chawla's viewpoints on several aspects of taxes like Alternate Minimum Tax and a question-answer session.
The discussion concluded that the Finance Minister could be suggested to make changes in the provisions in the Finance Bill meant to be effective from the back date. "Those provisions should be effective from the current date," the members suggested.
Later, the association honoured its senior members with the Life Time Achievement Award for the financial year 2011-12 for being constant mentors.
Speaking about the significance of the award, president of the association PP Maheshwary said the association was honouring four senior members in the age group of 70 years and above for their constant guidance, blessings and patronage to the organisation.
The veterans namely, Shiv Chand Garg, VP Garg, KC Jain and PD Goyal were presented awards amid applaud.
The association also cheered the occasion for adding its 100th member.
Meheshwari proposed the vote of thanks and secretary of the association Amit Dixit conducted the proceedings.
Over 60 members and office-bearers of the association, including joint secretary Jimmy Mittal, treasurer Nitish Garg, Ashwani Juneja and others were present during the seminar.