His experience with reality
Everything is calm and easy, till he begins to speak. His silence is explosive and creates a volcanic eruption. If you can handle it, view it as splinters coming from a mind that believes in marching on its own terms, that bears a strong reflection of UG Krishnamurthi and one that exists because we imagine it does, director Mahesh Bhatt would begin to make sense.
Living a dream
For a film that didn't even find a mention at the popular awards, there couldn't have been a better appreciation than bagging a national award, the ultimate recognition for quality cinema.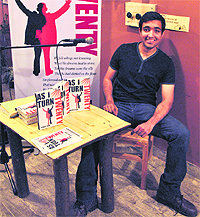 Live with passion
As I Turn Twenty by Reekrit Serai, a twenty-year-old Chandigarh-based author talks about the importance of living ones passion, to avoid regretting later in life. It took him three months to write the book and eight months to get it published. Quick for a beginner! We wonder what the book revolves around. "The main thought behind the book is that the youth of today ignore passion in order to become successful," quips Reekrit, who shared excerpts from his book at Books n Brew.


Raring to go: Reekrit Serai
stress buster
Are all the relationships worth keeping?
People in our lives can be a great source of comfort but also sometimes they can be a significant cause of stress. Stress relief is very important for our physical and emotional well being.
Master Chef
Rice feast
If the query, "What's cooking today"? elicits the response biryani it's almost hundred percent sure that your are in for a treat. A well made biryani with it's multiflavors intact, is a mouth watering option for all.
GET PHYSICAL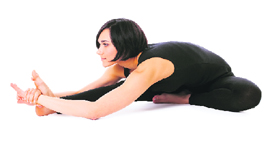 Head to toe
Parivrtta Janu Sirsasana is an invigorating seated side-bending posture. In Sanskrit, Parivrtta means revolved, janu means knee and sirsa means head. Thus Parivrtta janu sirsasana is the revolved head to knee pose.
TREND SETTER
He's got the looks
Keeping in tune with the latest trends and yet going casual about it, is the real smartness which makes heads turn. Final year engineering student Lokesh Rajput, who prefers sensible formals over casuals for 'the look', believes in subdued elegance.
Speed it up
So now that you own a bigger CC machine it is time you knew what kind of fuel to use and why. The inquisitive may read further.
Star track
New babe on the block
Will he, will he not?
The inconvincible
Saif: Kareena is a great actor
Confirmed rumour!
Click click!
Parental guidance
What a sport
Couple in the making
On a reformation
Chatter box
Ankita's style statement
Nothing's cooking!
Payback time
Legal issues
No time for love
Ready to hit the floor
Romantic at heart