New babe on the block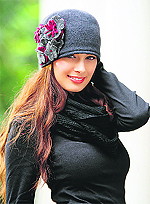 Just arrived

: Evelyn Sharma
She's studied business and dabbled in real estate in far-end Germany! She knows eight languages including English, Hindi, French, Dutch, Spanish, Thai, Russian and Tagalog of Philippines.
With an Indian father, a German mother, and a name resembling one of Hollywood's biggest superstars Marilyn, Evelyn Sharma is the hottest Bollywood import since Katrina Kaif!
1 Making a mark on the Indian firmament after modeling all over the world, Evelyn has already completed over a hundred assignments in India in the last few months, since migrating here! Despite her foreign origins, she dubs in Hindi herself!
2 This month, she was the showstopper face of ace designer Rocky S, setting the ramp on fire before the grand finale of India's most prestigious fashion and trade event, the Lakme Fashion Week! Next, Evelyn stars opposite India's original rock star Palash Sen in the forthcoming video of his rock band Euphoria!
3 The girl has been actively involved with charities for children around Europe and now supports the SOS Children's Villages of India! She's into yoga, gymming, dancing, kick-boxing and loves action!
4 What's more! The newbie in Bollywood has just signed not one, not two, but three movies in a row! Starting with Manish Tiwary's Issaq opposite Prateik Babbar; Evelyn will be seen with veteran filmmaker Pramod Chakravorty's grandson Prateek Chakravorty in his debut film From Sydney With Love; followed by a pivotal role in Ayan Mukerji's Yeh Jawani Hai Deewani, the Ranbir Kapoor-Deepika Padukone starrer under Karan Johar's banner Dharma Productions. Everybody make way for Evelyn Sharma.
Will he, will he not?
Ace actor Nana Patekar is rumoured to have been approached for the role of a lead villain in the upcoming Mumbai Mirror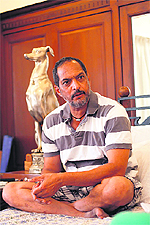 Tough call: Nana Patekar
While Aazaan star Sachiin Joshi's forthcoming film Mumbai Mirror co-starring Mallika Sherawat is about to go on floors next month, buzz is that ace actor Nana Patekar has been approached to play the main villain.
 Directed by Ankush Bhatt, of Bhindi Bazaar Inc. fame, the movie mirrors the Mumbai underbelly and revolves around the nexus between powerful corrupt dance bar lords and the Mumbai Police. If rumour mills are to be believed, Nana has been offered the pivotal role of Shetty; the most dreaded character in the story. Sachiin plays a quirky cop in this realistic commercial potboiler, while Mallika essays the role of an irresistible dance bar queen. Mumbai Mirror has music by Anand Raj Anand and shooting is expected to commence next month with a wrap in three months flat.
 The other intriguing part is that Sachiin might go in for either a bald look or a military-style crew haircut for this movie. He's also been loosing weight and training hard on his physique to fit into the role of a whimsical cop. — HRM
In the making …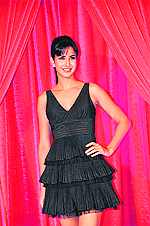 Moving on: Katrina Kaif



Katrina Kaif has bagged Prakash Jha's film on anti-corruption. The film is called Satygrah and stars Akshay Kumar. Madhuri Dixit is also a part of the cast.
The inconvincible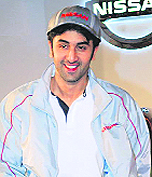 Turning down: Ranbir Kapoor




Ranbir Kapoor is a smart boy who is very professional. He turned down Subhash Ghai's movie. Ghai asked Rishi Kapoor to convince the young actor but he did not oblige. Script is the king!
Saif: Kareena is a great actor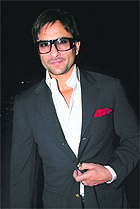 Standing up: Saif Ali Khan
Even though Agent Vinod has garnered average reviews, Saif Ali Khan is optimistic. He said, "Every movie is a bet, but this is perhaps the biggest bet.
It will be a major bet if it works. I don't feel Agent Vinod can go awfully bad. If this film works, it can open up a lot of possibilities of making such kinds of films." He also praised Kareena as an actor. "I think she is a great actor.
But I don't think the chemistry between two actors has anything to do with real life couples. I would agree that in some situations, the chemistry could be lackluster because it becomes very usual, but I don't think that is the case with our film," he added. When quizzed if he would like to direct a film, he responded, "I don't think I can direct a film."
Confirmed rumour!
Hush hush affair: Neil Nitin Mukesh


Neil Nitin Mukesh and Sonal Chauhan are dating and happy together but want to keep it all under wraps for now. They are doing a film for now.
Click click!
Behind the lens: Priyanka Chopra


Priyanka Chopra loves taking pictures and she confessed this as she recently launched a new camera from a certain brand. Here she looks sexy, plus we like the mermaid braid
Parental guidance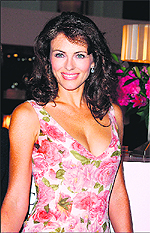 Strict eye: Liz Hurley
Hollywood actress and model Elizabeth Hurley's son has finally watched his godfather Hugh Grant in a movie, after years of missing out because of the actor's onscreen swearing.
The Notting Hill star voices the lead seafaring character in the new animated film The Pirates! In An Adventure with Scientists, and he hit the red carpet in London on March 21 for the premiere, a website reported. The 51-year-old actor headed inside for the screening and was later snapped sneaking his godson Damian, Hurley's nine-year-old boy, out of the cinema. "We're always trying to find something that Uncle Hugh has done that he can see, but they're full of swear words. It's quite difficult trying to find stuff for kids," Hurley had said. — PTI
What a sport

Performance oriented: Kareena Kapoor
Kareena Kapoor will flag off the opening ceremony of the IPL next month. Here's hoping Bebo's sexy moves will set the pace for our cricketers on the field.
She will dance to her latest songs including the Mujra one. Her performance is the longest and then the others will follow.
Couple in the making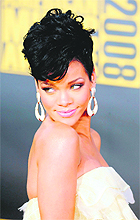 new love: Rihanna
R&B star Rihanna has reportedly been dating Ashton Kutcher for the past eight weeks after the pair met at a party in December.
The 24-year-old singer was seen leaving the Two and a Half Men star's Hollywood home earlier this week and is said to be smitten by Kutcher, who split from wife Demi Moore in November amid a cheating scandal, reported a publication online. According to her friends, the singer is also considering joining Kutcher's Kabbalah group.
"The flirting began as soon as Rihanna and Ashton met and swapped numbers. That moved on to texts and arranging to meet. They snuck off to a Santa Monica hotel a few weeks ago. They are two single people having a fling, so thought it would be best to meet in secret," a source said.
"Rihanna has told friends he's funny and cute. Both of them love having a good time and think they're too busy for anything serious just yet. She's starting to enquire about Kabbalah sessions with his rabbi. Kutcher, 34, is keen to keep the romance as secret as possible as he doesn't want to upset Moore, who has recently completed a stint in rehab where she got treatment for exhaustion, substance abuse and an eating disorder." "Ashton does not want to rub a new relationship in her face. She's still vulnerable. He's a good guy and, with all the Demi's recent health problems, people have forgotten that," the source said. Rihanna was recently linked to her abusive ex-boyfriend Chris Brown. — PTI
On a reformation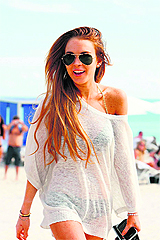 Agony aunt: Lindsay Lohan
Actress Lindsay Lohan's mother Dina has advised her to stay at home and "live in a bubble" to avoid getting into trouble till her probation ends. The 25-year-old troubled star has been on her best behaviour in recent months as she fulfils her community service hours and attends therapy sessions relating to her 2011 conviction for a probation violation, reported a channel online. Lindsay's probation ends on March 29.
"I said (to Lindsay) do not leave the house! She's coming down the home stretch and the paparazzi is just stalking her right now and trying to do anything, crash her car, just trying to hurt her before her court date on the 29th and we just wanna put this behind us," said Dina.
Dina's advice came after Lindsay got involved in an alleged hit-and-run incident outside a Hollywood nightclub last week. The actress dismissed the accusations as false and absurd and Dina admits she's since told Lindsay to stay indoors to ensure that her last few days on probation remain drama free. "So I said, 'Live in a bubble for the next two weeks and everything's over...' and she'll be free and clear to live her life," Dina added. — PTI