M A I N N E W S
Chandigarh skyline in danger
Get mandatory go-aheads to proceed: HC to Tata Camelot
Saurabh Malik/TNS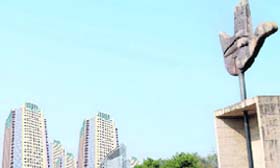 Chandigarh, March 26
The Punjab and Haryana High Court today made it clear that the Tata Camelot Housing Project coming up in Punjab's Kansal village could proceed further only after grant of clearances, sanctions, permissions and fulfillment of other pre-conditions.
The Bench made it clear that the project promoters and other respondents would have to comply with all the requirements spelt out by the Periphery Control Act and the Punjab Regional and Town Planning and Development Act, 1995.
"The provisions of the Periphery Control Act, and the 1995 Act, are complementary to each other and the provisions of the two statutes would apply to the housing project in question," the Bench ruled.
Disposing of a petition filed in public interest against the Camelot project, the Bench of Chief Justice Ranjan Gogoi and Justice Mahesh Grover clearances and permissions were necessary to avoid a situation, where "the vision of one (Mon Lee Corbusier) is pitted against the myopia of the multitudes".
The Bench added that the issue of clearances under the Wild Life (Protection) Act, and Environment (Protection) Act, would also have to be brought to a logical conclusion.
The argument that the project was against Chandigarh's edit, however, failed to find much favour with the Bench: "The particular edict, which is alleged to have been violated is the embargo on construction on the north of the Capitol Complex. Viewed from strict dictionary meaning of the word edict -- that is a decree issued by the sovereign or the other authority or any authoritative proclamation or command — the words of Mon Lee Corbusier may not amount to an edict at all."
"It is in the nature of a formal wish of a person that the future generation would continue to preserve what has been built. Such a duty is cast upon every citizen who is permitted to enjoy the gifts of nature or the results of sustained human efforts only during his lifetime and bequeath to the next generation what he has inherited," the Bench said.
The Bench added this was the spirit in which the different authorities, now in charge of the matter under Environment (Protection) Act, the Wild Life (Protection) Act, and the Periphery Control Act "should proceed while considering necessary clearances/ sanctions/ permissions and other pre-conditions on fulfillment of which alone the housing project can make any further progress…" Appearing for Sarin Memorial Legal Aid Foundation, ML Sarin pointed out the site was in catchment area of Sukhna Lake, as established by Survey of India maps and hence, construction there would require clearance under Environment (Protection) Act, which was refused.
The Project
The controversial project proposed over 53 acres of land would have 1,734 apartments in 18 towers, each having anything between 12 and 35 storeys
It will come up in an area that falls in Punjab, but is just a little over 1 km from the Capitol Complex and next to the Sukhna Wildlife Sanctuary
Its towers would soar above Sukhna Lake and dwarf Le Corbusier's Capitol Complex
Petitioners' plea
There was conflict between the project and Le Corbusier's vision
Project violated Periphery Control Act; permissions under Act not obtained
Project not authorised under Environment (Protection) Act, 1986
Project falls in eco-sensitive and protected area
Promoters' defence
With enactment of the 1995 Act, Periphery Control Act ceases to apply
Master Plan drawn up under Punjab Regional and Town Planning and Development Act covering Kansal village, the project site
If Periphery Control Act provisions' applicable, they were willing to seek sanctions, permissions
Writ petition highly premature