Truck with cow urine without valid papers seized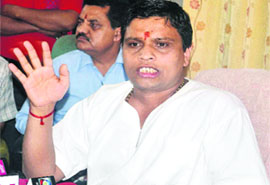 Haridwar, March 29
It seems controversies are not leaving yog guru Swami Ramdev and his aide Acharya Balkrishan, as after Ramlila Maidan police crackdown, disproportionate assets allegations and fake passport documents, now a truck has been seized by enforcement directorate for ferrying cow urine without requisite papers.


A frustrated Acharya Balkrishan responding to questions on seizure of Divya Pharmacy goods ferrying vehicle: Tribune photo:Rameshwar Gaur

Irrfan watches 'Paan Singh Tomar' with soldiers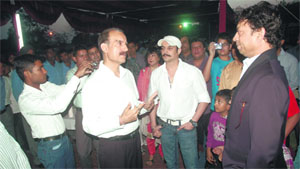 Dehradun, March 29
The moments of excitement and eagerness were largely visible on the bright faces of the brave soldiers of the Bengal Sappers and their families as Bollywood filmstar Irrfan Khan attended a promotional event to include an interaction with soldiers and screening of Paan Singh Tomar at Hajipir Auditorium in the Bengal Engineer Group and Centre, Roorkee, today.

Film Actor Irrfan Khan interacting with soldiers and Commandant of the Bengal Engineering Group and Centre at Roorkee on Thursday. Photo by Navreet Milton

Who is leader of the BSP in the House ?
Dehradun, March 29
Confusion persists over who is the leader of the BSP in the House, more so after the newly elected president of the BSP nominated Sarvat Kalim Anasari as the leader of the party in the house.
Man crushed to death under truck
Dehradun, March 29
Amit Kumar, 24, resident of Prem Nagar, was crushed under a truck in the morning at Panditwari when he went out for a morning walk. Kumar, who was recently selected for class IV-level job in Indian Military Academy (IMA), was to appear for his medical test at IMA today.
Census of elephants through dung-decay method
Dehradun, March 29
The results of much-awaited Uttarakhand elephant census could be out in the first week of May. Uttarakhand forest authorities have recently conducted the census of elephants through a dung- decay method, used for the first time in the elephant census in the state.
Forest officer has 1 lakh grass varieties in his collection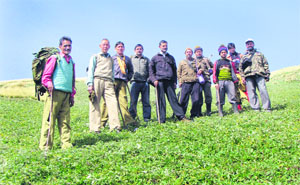 Pithoragarh, March 29
A forest officer deputed in the Pithoragarh forest division has a rich collection of nearly one lakh varieties of grass, mainly found in the Indian sub continent. "These varieties of grass have been collected from India, Nepal and Bhutan in the last 15 years," said Manoj Chandran, Deputy Forest Conservator, Pithoragarh forest division.


Forest officer Manoj Chandran (in black jacket) with other officials of the Forest Department and shepherds in Pithoragarh.

Austrian couple gets married in Hindu style in Haridwar
Haridwar, March 29
While the Indian youth is today more inclined towards the western culture, an Austrian couple has tied the nuptial knot by performing rituals in the Hindu vedic style in Haridwar.
Work on DMC projects to be expedited
Dehradun, March 29
The Dehradun Municipal Corporation (DMC) at a review meeting held at the DMC office yesterday decided to take action on its ongoing projects. The meeting was attended by Mayor Vinod Chamoli, Mukhya Nagar Adhikari Sushil Kumar, Additional Mukhya Nagar Adhikari Harak Singh Rawat, Chief Sanitation Officer Kailash Joshi and other senior officers.
LMCC beat Hathibarkala XI
Dehradun, March 29
LMCC won by 26 runs against Hathibarkala XI in the 60th District Cricket League match here today.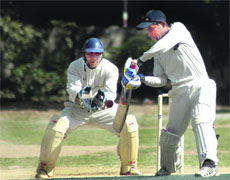 Roorkee team beat DRCA, Raipur
Dehradun, March 29
Roorkee team beat DRCA, Raipur, by four wickets in the ongoing 4th Uttarakhand Cricket Cup played at Rangers Ground here today.





A batsman in action in a match in the 4th Uttarakhand Cricket Tournament played at Rangers' College ground in Dehradun on thursday. Tribune photo

Two held with stolen goods
Mussoorie, March 29
The Mussoorie police arrested two thieves near Kolhokhet on the Mussoorie-Dehradun highway last night and recovered stolen goods worth about Rs 15,000 from their possession. Suraj, a native of Salyan in Nepal, and Premchand, a native of Kajalgad in Gaziabad district and at present residing at Dalanwala in Rishikesh, broke into a shop owned by Balbir Singh, near Kholukhet, a few kilometres from Mussoorie, last night.