Family members of missing Irish journalist visit Mussoorie
Ajay Ramola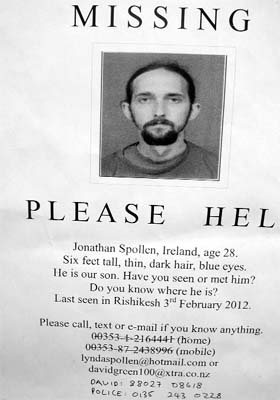 A poster of the missing Irish journalist posted by his family members in Mussoorie.
Mussoorie, March 22
Members of the family of an Irish man, who went missing a month ago while backpacking in India, were in the town today. They pasted pamphlets depicting his picture and details at public places.
Jonathan Spollen (28), a freelance writer and journalist from Ranelagh, has not been seen or heard since February 3. Members of Jonathan's family also contacted many shopkeepers and hotels around Mussoorie early this morning in the hope of getting information about his whereabouts.
Jonathan's family members said till recently he had been based in Hong Kong and was working for the International Herald Tribune. He was reportedly staying in Rishikesh of late.
Jonathan's father David Green, who is also here to assist in the search for his son, told The Tribune that Jonathan was planning a trek to the Himalayas at the time he went missing. He had planned to visit Delhi to meet a friend but he changed his mind. Jonathan arrived in India from Nepal in November last year and was planning to leave the country by February 21 when his visa was due to expire.
David said his son was an international journalist. "He was a kind of journalist who was interested in people; many of his reports were human interest stories within big political events," he said. He added Jonathan left Hong Kong in November, 2011, to explore his interest in India and to do trekking.
"What we know so far is this: Jonathan rang up his mother on February 3 to say he was going on trekking before his visa expires on February 21. He told his mother that he would contact her in a couple of weeks and was looking forward to returning home. He had been contacting friends and his family frequently. No one has heard from Jonathan since then," David said.
"On February 13, Jonathan spoke to an American tourist at Laxman Jhoola when the latter was reading a book, "Shantaram" by GD Phillips that he was also reading. This was the last time he was seen. On March 10, two American tourists found a small rucksack with a sleeping bag, some clothes, a passport and bank cards near a stream about 3 km from Phoolchatti. Searchers found some more documents a kilometre up the track," added David. The police in the area has made all efforts to trace Jonathan and brought a sniffer dog from Dehradun for the purpose. Local trekking companies also helped the police to trace him in the Garur Chatti to Neelkanth area, but to no avail.
Ailing David Green has appealed to the people to contact the police at Laxman Jhoola at phone number 0135-243 0228 or Jonathan's family to provide any clue about his whereabouts.