Punjab, Uttarakhand poorest on pupil-teacher norms
Aditi Tandon/TNS
New Delhi, April 1
None of the states in the region is close to meeting the student-teacher ratio and infrastructure targets set by the Right to Education Act (RTE), which completed two years today.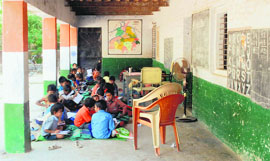 When the Act was rolled out on April 1, 2010, the deadline for schools to meet pupil-teacher ratio, teacher-classroom ratio and infrastructure goals, was kept at March 31, 2013.
As of 2011, half of all rural government schools in India have no boundary walls. Only 40.7% schools have met the pupil-teacher ratio (PTR) norms of two teachers for every 60 students (class I to V) and one teacher per 35 students (classes VI to VIII). The goal of ensuring that every teacher has a classroom is also unfulfilled. Nationally, 74.3% schools have achieved this target so far.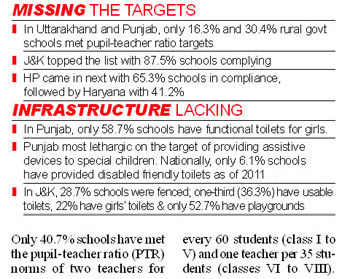 In the region, Uttarakhand and Punjab are the farthest from meeting the PTR targets with only 16.3% and 30.4% rural government schools complying. This is below the national average of 40.7% schools. J&K is the best with 87.5% schools complying. Himachal is next with 65.3% schools in compliance followed by Haryana with 41.2%.

On teacher-classroom ratio goals, Uttarakhand, Punjab and Himachal have performed better than the national average of 74.3% schools complying. Uttarakhand leads the region here with 84.7% rural government schools meeting the target. The percentages for Punjab and Himachal are 82.2 and 77.4, respectively. J&K is the farthest from meeting this target with only 49.8% schools having met it by 2011; Haryana's percentage is 70.7, less than the national average.

Under the head of infrastructure, the law mandated the provision of specified

facilities by March 31, 2013. But an analysis of schools' RTE achievements on the basis of indicators listed in the 2011 Annual Status of Education Report (ASER) reveals that nationally only 54.1% schools have constructed boundary walls; 62.6% have playgrounds; 49.1% have usable toilets; even lesser 43.8% have separate girls' toilets.

On infrastructure, J&K is the weakest in the region with only 28.7% schools fenced; one third (36.3) have usable toilets; 22% have girls' toilets; only 52.7% have playgrounds. Half of all J&K schools (50.7%) have libraries but they are being used in just 26.8% cases.

Even in Punjab, which posted the best learning outcomes nationally in 2010, only 58.7% schools have functional toilets for girls. The state was the most lethargic on the target of providing assistive devices to special children and delayed inordinately on placing orders for these devices. Nationally only 6.1% schools have provided disabled friendly toilets as of 2011.

The analysis of ASER data from 14,283 schools of India further shows that though nationally, RTE Act should have led to improved teacher and students' attendance, this hasn't happened. In 2009, 89.1% teachers were present in primary schools on the day of the visit. In 2011, only 87% were present.

In 2009, 74.3% of the enrolled primary students were present, whereas in 2011, only 70.9% were present.

At upper primary level, the percentage of enrolled student attending school on a given day was 77 in 2009. It is 71.9 now.