Birthday bash
There is something about birthdays that brings child like excitement and spring in the feet. There is something about birthdays that we begin dropping signals about the gift we expect. We bet you must have come across people who start preparing for the D day months in advance as if they were about to reveal a second Halley's comet to people.
Click to stardom
By now we know, star kids have a fairly easy walk in the world of movie making. Whether it is Bollywood or any other genre they don't have to worry about the thunderous launch. But if it was so easy Amita Pathak, the leading lady of Bitto Boss from Anandpur Sahib, Punjab would have done at least seven-eight films in a year. Being producer Kumar Mangat's daughter working in Bollywood would have been no big deal. "People think that owning a production house makes everything easy for me. I don't deny that my father has been a great support, at the same time I still have to work hard to be accepted in the industry," says Amita who plays a modern day girl in the movie Bitto Boss. She plays a Punjabi girl in the movie. "I am from Punjab so playing my character wasn't difficult."
Threads of tradition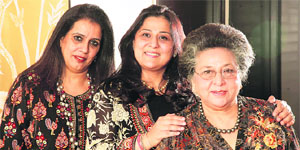 In the world where everyone is ready to walk the west way, there are still a few contemporary designers who are readily reviving ancient heritage crafts of hand embroidery and giving them a modern twist for the modern women of today. Such is the tale of Patine, creation of Shon Randhawa, her mother Chand Balbir Kaur and Geeti Mehra.

reviving glory: (L-R) Designers Geeti Mehra, Shon Randhawa and Chand Balbir Singh

Fashion funda
Colour comfort
His spring summer collection 2012, Lightness of Being, has been well received by fashion critics. Nachiket Barve's use of colours is what makes the collection special. The cuts are simple yet extremely stylish. He makes it a kind of compulsion for fashionistas to own a few from his label, Nachiket Barve. Fashion forecast from him should be paid all the attention.
Of travels and fables
Four years of endeavour and in between countless doubts would crop up, "Who's going to read my autobiography, who's going to be interested in my life history? After all, I'm not a celebrity." However, that wasn't reason enough not to go ahead share life's little memories and turn them into a memoir. So much for the story behind Neena Sahai's debut book Journeys Diplomatic and Artistic.
stress buster
It's about the money, honey!
With the prices of everything scaling up everyday, finance has become an issue in our daily lives. Money problems can be a major source of stress and conflict.

Weight watch
Muscle mania
If you want to gain some muscles, add the following food items in your diet chart. These foods are high in protein and some contain certain elements that will help you pack on lean muscles.
Eggs: These quick and easy treats are staples to any fitness regime. Some experts believe eggs to be one of the most perfect bodybuilding food available.
Sporty mix
Here comes the summer, cricket and food extravaganza, all together. Rock in Rio-43 has refurbished its sports lounge. Big screens in this 40-seater slick place promise to give you the best view regardless of where you sit.
star track
Wedding bells finally?
Saif and Kareena were supposed to become man and wife in 2012 and now the wedding date has been set for January 2013.

n All is well
n Housefull expected
n Finishing line
n One in hand, one in the bush
n Sold for more
n I am almost 40 and still struggling: Ranvir Shorey
n Possibly together
n Parineeta's premiere
n Game launch
n Costume run
n Guetta to launch his record label
n Inked for love
n Re-duo for Twins sequel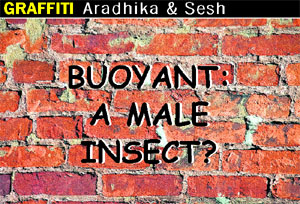 chatter box
New pastures
Kushal Punjabi will now be seen in a new show on Life Ok. The show is about a contestants struggle through a reality dance show. He will be playing the role of Alan, a choreographer. Get ready to experience the reality behind the scenes of reality shows.

n So in love
n No nick names
n Dream home
n Relaxation therapy with Rakshanda
n Honing dancing skills