World Autism Day

Government hospitals yet to wake up to autism reality
PK Jaiswar
Tribune News Service

Amritsar, April 3
Autistic cases have increased manifold in the world, especially in developing countries including India, in the last few years.
As the world observed Autism Day on April 2, Amritsar Tribune talked to experts to find out the problems areas especially regarding the rehabilitation of children suffering from this neuro-developmental disorder.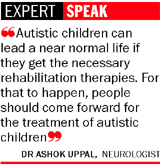 First thing the experts pointed out was the lack of seriousness at the government level. They said at a time when the disorder is affecting more and more children, nothing has been done at the government level for the rehabilitation of these patients.
Due to lack of awareness, a large chunk of such children remain undiagnosed and unattended. There are no schools for the rehabilitation of these patients, which should be mandatory so that they could lead a near normal life, they said.
They said the government should take initiative and spread awareness about the life-long disability, which could be detected in first three years of birth.
"A large number of children don't get necessary rehabilitation therapies due to lack of awareness among people. As children suffering from the disorder could not understand simple questions, commands and have problems in communication, parents consider autistic children mentally retarded or 'fools'," said Dr BL Goel, director, Vidya Sagar Institute of Mental Health. The data available on the disorder reveals that there were 20 lakh cases in India in 2003 that has now gone up to over 1.30 crore. The latest global survey reveals that in every 88 children born in the country, one develops autism.
"Going by the data, Amritsar city having a population of over 12 lakh could approximately have 13,000 children suffering from the neuro-developmental disorder. While the city has only a couple of NGOs working for the rehabilitation of mentally challenged and autistic patients, government institutions in the city have no such facility," said a teacher in the Government Medical College preferring anonymity. There also no government school especially for such patients, he added.
Dr Ashok Uppal, a neurologist, said the autistic children can lead a near normal life if they get the necessary rehabilitation therapies. He said people should come forward for the treatment of their wards.
Parents of an autistic child, preferring not to be named, admitted that initially they faced problem as they were unaware of the disorder. But the therapies at local Raj Rani Uppal Charitable Special School along with our hard work paid dividends and improved the life of our child, they added.
Dr Esha Dhawan, a psychiatrist and counsellor, said early diagnosis and timely treatment can help children lead a normal and healthy life.
"These children are quite sensitive. So we have to find out their field of interest," she said.
HS Ghai, Deputy Medical Commissioner, Punjab Health System Corporation, confirmed that there is no facility for the treatment of autistic patients at government hospitals in the city.