Fans pour in to cheer home team Kings XI Punjab
Deepankar Sharda
Tribune News Service
War cry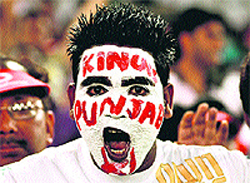 fan frenzy:

A youth paints his face to show support for his team Kings XI Punjab. Tribune photo: S Chandan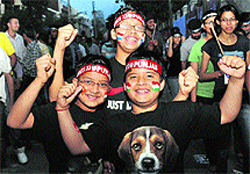 Young fans in a jubilant mood outside the stadium. Tribune photo: Vicky Gharu

Mohali, April 12
As the sun begun to set, audience started pouring in the Punjab Cricket Association (PCA) stadium to cheer the home team Kings XI Punjab in their first home match against the Pune Warriors, here.
Although a few seats remain empty throughout the first innings, the audience present cheered the home team. "I just came to watch Sourav and Gilchrist bat. I have asked for a terrace block ticket but failed to get access through it however I managed three tickets for my family," said Aneesha.
On other hand, the home team after elected to field first gave the home crowd a reason to cheer. "We hope that the home team will take its revenge. After yesterday's storm, we thought we will miss the action, but the clear sky today gave a chance to cheer for our Punjab team," said Anuj. "I wanted to be the part of the audience during the Pakistan and India clash but failed to buy a ticket. I am here to buck up the local cricket team and hopefully they will win the game," said Anshul.
After the brilliant show by the bowlers of home team, audiences got another chance to smile after Preeti Zinta herself came to ground and made her signature run before the start of second innings. She distributed free T-shirts while taking a round of the field. "This is for the second time I have got a shirt from her. She is among my favorite stars and I wanted to see her smiling. I want the Kings team to win only to see her smile again," said Prabhpreet. "She is from my home town and I wanted to have a glimpse of her," said Shurut. Punjabi comedian-turned-political leader Bhagwant Mann was also seen watching the match while sitting in the terrace block of the stadium.
High prices
On one hand the audience remain on their toes to cheer the home team and on the other the same old story repeated itself, after eatable's counters were seen charging overprice and making huge profits.
According to the price list, the owners were Rs 50 for two pieces of spring rolls,Rs 30 for bread pakoras, Rs 50 for 400ml cold drink, Rs 30 for two samosas. "This is a not a new thing, every time they charge Rs 5 to 10 extra from the market or original price. Due to summers and humidity we have to buy something to drink, that always lead to holes in our pocket" said a spectator.