star track

Mastering the magical act
Shahana Goswami has made a niche for herself in Bollywood. She tells us how to be a good actor...






Spontaneous actor:

Shahana Goswami
Though she was already two-films-old (Yuh Hota Toh Kya Hota and Honeymoon Travels Pvt. Ltd), Shahana Goswami was first noticed in Rock On! Her powerful act as Arjun Rampal's embittered wife stunned all and won her many awards along with unprecedented critical acclaim. She wasn't just a-one-film wonder as she sparkled in films like Ru Ba Ru, Firaaq and Jashnn with her unmatched screen presence, spontaneity and natural acting. In fact, she was the only saving grace in Jashnn. She also had a role in Ra.One and will be seen next in Madhur Bhandarkar's Heroine. Having cemented her place in this competitive industry without any godfather or filmy background, Bollywood's latest powerhouse of talent shares some tips on how to be a good actor.
Self knowledge
You need to know yourself; what your strengths and weaknesses are. You need to be comfortable in your own skin. If you know yourself, only then will you be able to chalk the similarities or dissimilarities between your character and you and portray them.
Keen observer
You need to be aware and observant about life and the people around you. Only then will you be able to extract the finer nuances of a performance from your subconscious. Keep your eyes and ears open while living life.
Extensive research
If you are not exposed to a character and have no idea about that person, then you need to read or study about them and interact with people like them and try to imbibe the qualities and mannerisms.
Healthy lifestyle
Your body is your medium of communication. You have to take care of it and keep it in good shape. The physical aesthetic aspect is important. You have to look presentable and carry off your clothes well. I am not saying that you have to be skinny; you should be healthy and fit. You can do this by having a healthy lifestyle through your diet and exercise.
Specialisation matters
I have not been trained in acting but you can go for a course and train yourself. I believe there are two kinds of people: some people learn better on the job while others learn better when they are guided or directed. Just like when you want to make an insertion in the wall, you have to hammer in one place repeatedly, similarly, for you to make a mark as an actor, you have to establish yourself in one area and hone the good aspects of your performance. Only then will you get noticed and be remembered. If you juggle from one area of acting to another, the audience will get quite confused. So make a mark in one area and then you will get the confidence to branch out to some other area of acting. — HRM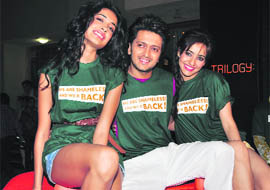 Not so kool
The media was miffed at how late the launch of Kya Super Kool Hain Hum started. Riteish and the girls arrived three hours late, Tusshar Kapoor arrived towards the end of it and Ekta Kapoor was out of town. They are hardly serious with the promotions of the movie.
late comers: Cast of Kya Super Kool Hain Hum
Reel identity
Prachi Desai is happy that she is playing characters that resemble her real self in movies like I Me Aur Main opposite John Abraham and Bol Bachchan opposite Abhishek Bachchan. Both films release in July 2012.
The wait is on
Ajay Devgn starrer Son of Sardar will release on November 13. The film also stars Juhi Chawla and Sonakshi Sinha and is a remake of a South Indian film.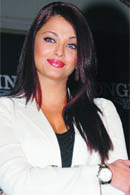 Screen absence
Aishwarya Rai Bachchan is busy playing mother to her daughter. She has signed a big endorsement deal with a jewellery brand. It will be a while before she returns to films. They are even planning a second baby.
Busy mommy: Aishwarya Rai Bachchan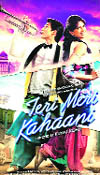 Time travel
Priyanka-Shahid's movie Teri Meri Kahani is ready for release. The promo has created a positive buzz. The movie spans over the years 1912, 1960 and 2012. Shahid relates to the 1912 character while Priyanka relates to the 2012 character.





Poster of Teri Meri Kahani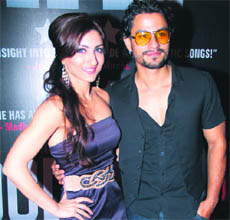 Dinner date
Soha Ali Khan and Kunal Khemu were spotted at a suburban restaurant during dinner time earlier this week. They were accompanied by two other girls.
Happy couple: Soha Ali Khan and Kunal Khemu

PC's environmental concern
Priyanka Chopra visited the Taj Mahal recently and she also got down on her knees and wore gloves to pick up trash from the Yamuna river to inspire people to keep the environment clean.
Socially responsible: Priyanka Chopra
Star power works
From being a contestant on a TV reality show to a host and now a lead in his debut film Vicky Donor, VJ-turned actor Ayushmann Khurrana, says the journey of an outsider has never been easy in films and feels that star kids very much deserve to be in the industry. "I think if I was a star kid I would have made by debut four years back. But I don't have a godfather in the industry and I have made my own niche and I am proud of it. But that is ok, star kids deserve to get opportunities because their parents worked really hard," said Ayushmann. "I think there are lot of star kids are doing well like Ranbir Kapoor. I think he is the flag bearer of R K Films; he is brilliant as an actor. And gradually he wants to become a director and revive R K Films banner and that is really commendable he is a superstar. I think even Arjun Kapoor is looking very good in Ishqzaade. I think they deserve to be there," he said. "But it is slightly difficult for outsiders... but it doesn't matter much.. it happens everywhere even in business they have their children joining the business. — PTI
New Year surprises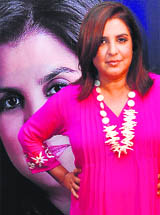 Patience pays: Farah Khan
Everyone is very excited about Shah Rukh Khan and Farah Khan's reunion for Happy New Year. However, SRK's diary is full for a very long time so Farah will have to wait.
A source says, "Shah Rukh Khan is busy with Yash Chopra's romantic film till July. Then he begins shooting for Chennai Express, directed by Rohit Shetty. The leading lady for the latter has to be finalised. Once he completes Chennai Express, he will then have to choose between his childhood friend Anil Senior's ABCD and Farah Khan's Happy New Year."
The source continues, "Until now, SRK was doing Farah's film after Chennai Express but now his best friend Anil has come into the picture with ABCD. SRK is acting in it and producing it as well so he will wants to wrap up this film after Chennai Express. Moreover, he is also busy with his epic on Karna which is another mega project for him after Ra.One. So all these films will keep him busy till mid-2013 and the IPL is also there. This means that Farah Khan's film Happy New Year will only begin with him in late 2013."
Farah Khan made Tees Maar Khan with Akshay Kumar because SRK was not giving her dates. We hope these date issues are sorted out between them because we do not want yet another Tees Maar Khan!
Not so friendly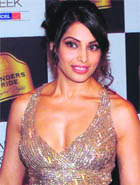 Staying aloof: Bipasha Basu
Even after completing a decade in the industry, actress Bipasha Basu says she has no close friends in Bollywood.
The 33-year-old actress says she has her own reservations when it comes to approaching a film-maker for a role.
"If I meet someone at a function, I do say hello. I am cordial to all. However, I can't pick up the phone next morning and propose to plan a film together. A lot of this is also due to the fact that no one is my buddy in Bollywood. I know that for some out there this does count. Nothing wrong with that but then that's just not me," said Bipasha.
"On my speed dial, there is no one from the industry. When a role is offered and it is good enough then I do that. Otherwise I wait for the next right opportunity," she added.
"I am friends with people around me but not friendly enough to start bargaining with them or emotionally blackmail them. Ultimately it's a good film that counts and when that comes to me, I give it a go ahead. It is as simple as that," said Bipasha. — PTI
Comedy, her new muse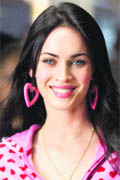 Humorous chick: Megan Fox
Hollywood actress Megan Fox says she is tired of playing mean characters onscreen and would like to try her luck in comedy.
The 25-year-old, who is playing a cameo in actor Sacha Baron Cohen's new comedy film The Dictator, said public will relate to her more easily if she does some light hearted films, a website reported.
"When I first started acting I was always playing the bitchy or mean girl, then I was playing these cool, robotic women. I was growing tired of playing those kinds of characters and reinforcing this stereotype of me and having to play up to that when I was doing interviews."
"Now I feel I can be myself again. It's given me the chance to get away from that sexy, icy image that I've been stuck with. I think the public can relate to me more easily in these kinds of movies," she said.
Angelina's thrilling act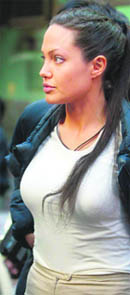 Short take: Angelina Jolie
Hollywood star Angelina Jolie is in talks to star in director Ridley Scott's upcoming narco-thriller The Counselor.
The 36-year-old actress is entering a negotiation to take a small role in the upcoming film just a few weeks after her partner Brad Pitt was said to have a discussion for another small part in the film, reported a publication.
Details of what character Jolie is eyeing to play are still unclear.
It is possible for Jolie to join Scott's project as she will not begin filming her latest film, Maleficent, until late June or early July. Scott himself has scheduled a June start date for his new movie.
The Counselor, which is described as "'No Country for Old Men' on steroids", follows a respected lawyer who thinks he can dip a toe in to the drug business without getting sucked down.
Michael Fassbender, who also worked with Scott in upcoming Prometheus, has been tapped to star as the male lead. — PTI