Classical attachment
One of the biggest problems being faced in the Indian classical music scenario is the fact that it is not a teaching subject in schools, unlike abroad. "This explains why audiences abroad connect with Indian classical music better," shares Brij Narayan, an eminent sarod player.


Melody time: Brij Narayan
Modern puppet, seasoned hands
Here comes the sexy puppet, Trilotma, an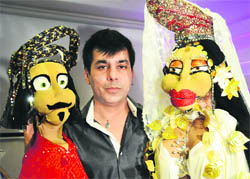 apsara. She is not like her ancient counterpart, who only swore by the traditional ghagra choli made from Bandhej. Her previous generations have only entertained children. She works harder, pleases adults, which she couldn't have with her two feet height, so she grew up and is now life-sized. The voice behind the puppet shares details about her, "She is a seductive beauty and very flirtatious. Not like the one who only did long story-telling sessions."

Varun Narain with his puppets
Movie Meter
Not so sesky...
Be nutty for good health
Chomping on nuts leads to higher levels of good cholesterol and lower levels of C-reactive protein, which can trigger chronic diseases including heart disease, said a new study.
High designs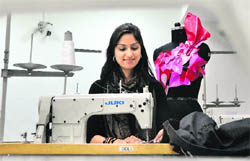 It was an unbelievable break for the committed, young designer Swati Prabhakar, who started working as a costume designer for movies at the age of just 25 years. A graduate from INIFD, Ludhiana, Swati launched her journey as an assistant costume designer with the movie, Desi Munde. "It was an exciting and enriching experience to work with the likes of Raza Murad, Bunty Garewal, Gurleen Chopra and Parikshit Sahni," she says.

stitch in time: Swati Parbhakar Photo: Himanshu Mahajan
in town
Song of love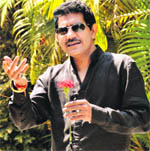 Destiny has its own ways. The tunes composed by singer, composer Shankar Sahney during his university days in Chandigarh have finally seen the light of the day. And, none else but Asha Bhosle has sung them. With some 100 videos and 1,300 stage shows to his credit, Shankar came to Chandigarh on Friday to release his latest album Wari Jawan Ishqe. Immensely proud to have composed music for one of the most loved singers of the country, he shares, "Asha ji hardly sings anymore. It's my fortune that she agreed for this album." Wari Jawan Ishqe has ghazals and Sufi numbers sung by Asha and Shankar.

Sufi notes: Shankar Sahney
No item connection

Emraan Hashmiincreases his fee

Katrina's new fan!

Hungry for more

Family ties

Ooh la la!

Highest paid Heroine

Root cause

Hrithik shows his dark side

The real challenger

Drop down effect

Exposed for good
Pawn stars

Grounded to reality

Aamir unplugged

Shapath's extra hours

Fighting a psycho...

From foes to friends

Drama in Kya Hua Tera Vaada

Mandira's looks
First-day-first show
Bittoo Boss (Pulkit Samrat) is a young charming, ingenious and a fun-filled wedding cameraman who takes pride in calling himself a 'sesky video shooter'. He is the star of all wedding celebrations of Anandpur Sahib, a small town in Punjab. Bittoo believes in spreading happiness through the beautiful moments he captures, moments which one can rewind and keep watching for years. He falls in love with an educated and strong-headed girl (Amita Pathak) who makes him realise the importance of financial stability and monetary gains in order to gain respect and recognition. Smitten in love and bitten by the one he loves, the smart and righteous cameraman is lured to take a shortcut in order to earn a quick buck and get his life back on track. What follows is a madcap ride.