Char Dham Yatra Nears
MC pays no heed to cleanliness
Haridwar, April 15
The Haridwar Municipal Corporation and the district administration do not seem to be much concerned as far as cleanliness in the city is concerned. And this despite the fact that the portals of the Char Dham shrines are set to open later this month and the tourist season is also approaching.
Traffic pylons to check jams in Haridwar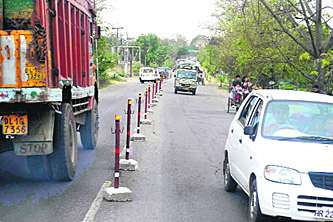 Haridwar, April 15
In view of heavy traffic congestion, tourists' season and the delay in the construction of four lane Delhi-Haridwar National Highway, the traffic police is now placing traffic pylons on the busiest highway stretch adjacent to Har-Ki-Pauri as a temporary arrangement.


Traffic pylons put up on the New Delhi-Haridwar National Highway in Haridwar. Tribune photo: Rameshwar Gaur

Police gears up to tackle tourist rush
Nainital, April 15
The police authorities in Nainital have started gearing up for the forthcoming summer tourist season. A broad road map for management of the tourist season was chalked out at a meeting held under the chairmanship of Inspector General (IG) of Police (Kumaon Range) RS Meena on Friday. Chairman of the Nainital Nagar Palika Parishad Mukesh Joshi also participated in the meeting.
Mahant Sudhir Giriji shot dead
'Property dispute may be the reason'
Haridwar, April 15


The murder of Mahant Sudhir Giriji Maharaj, Shri Panchayati Mahanirvani Akhada, Kankhal, late last night at Haridwar-Roorkee road near Belda village has created a sensation in the city. Mahant Sudhir Giri was travelling in his car and was just a kilometre away from his ashram, when some assailants on other car obstructed his way and then fired at him from a close range.
Mahant Sudhir Giriji Maharaj
Rain exposes tall claims of civic body staff
60 drains in Nainital choked with garbage
Nainital, April 15
The Lake City which won the Nirmal Nagar Award from the state administration last year presents a pathetic picture as the recent spell of rains have completely exposed the tall claims of the local civic body and the administration with regard to sanitation.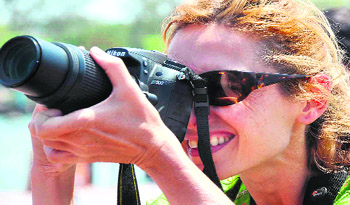 Zooming in on Ganga ghat: A foreigner clicks the picture at Har-ki-Pauri in Haridwar on Sunday. Tribune photo: Rameshwar Gaur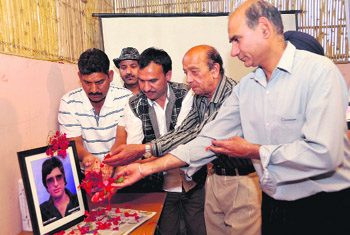 Film and theatre artistes pay homage to actor Parveen Sood in Dehradun on Sunday. He died two days ago in Ludhiana. A Tribune photograph

Frequent transfers of DMs irk people
Pithoragarh, April 15
Champawat citizens have expressed resentment over the transfer of the District Magistrate within six months as V. Shanmugham, newly appointed District Magistrate of Champawat district, will be the 14th District Magistrate. The district has an existence of 13 years as the separate district. It has been created during the Mayawati Government of UP in 1997.
Filth on Road
Minister takes staff to task
Nainital, April 15
Saturday afternoon saw Cabinet Minister Harish Chandra Durgpal getting a firsthand experience of what people of the Halduchaur area have to tolerate every day. The minister was seen in a furious mood when he saw filth from an open sewer that dotted the Bareilley road which incidentally is a national highway.
Restart work on power project or face stir: NGOs
Dehradun, April 15
A consultative meeting of members from Confederation of Indian Industry, non-government organisations, concerned citizens, doctors and scientists was held yesterday at RLEK Dehradun. Chairperson, RLEK, Avadhash Kaushal, said the Ganga inspite of originating from Gomukh in Uttarakhand does not irrigate even a single field from Gomukh to Haridwar in the state. He said 40 per cent villages in Uttarakhand are still not connected with roads and thus are devoid of development. Kaushal said 1200 crores spent of Lohari Nagpala are not Congress' or BJP's money but it has been taken from the poor common man's pocket.
We are waiting for notice, say Congress leaders
Haridwar, April 15
Reacting on the show-cause notice being served by Congress PCC disciplinary committee, district chief of Congress Chaudhari Rajendra Singh and City Congress chief OP Chauhan said that they are awaiting the notice and, thereby, after reading it will react in a proper manner.
Sumit, Meenaxi win marathon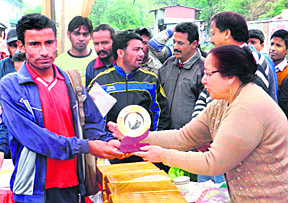 Nainital, April 15
Sumit Kumar of Delhi and Meenaxi Mehr of Lakes International School in Bhimtal won the first Bhawali open marathon held on Sunday in the boys and girls category, respectively. The event had been organised by the Runners 365 sports organisation along with the Nanda Devi Mahotsava Committee.


Sumit Kumar of Delhi being awarded a trophy for winning the Bhawali Open Marathon by local legislator Sarita Arya at Bhimtal on Sunday.
CM assured of additional foodgrain supply
Dehradun, April 15
The Central government has assured Chief Minister Vijay Bahuguna of foodgrain supply as demanded by him. Bahuguna met Union Minister of State for Food and Civil Supplies KV Thomas at Krishi Bhawan in New Delhi last evening.
Gusain flays Panwar for expelling him from party
Dehradun, April 15
The expelled leader of the Uttarakhand Kranti Dal (P), NK Gusain, has castigated party president Trivender Singh Panwar for expelling him from the party without serving any notice in this regard. He said he would launch a campaign against Panwar.
5 held for selling liquor illegally
Nainital, April 15
The personnel of the Excise and Prohibition Department nabbed five persons on the charge of illegally selling liquor in the Bazpur area of Udham Singh Nagar district. According to sources, 200 litre of liquor was recovered from them.