UJVNL staff resent hiring senior officers on deputation
Dehradun, April 16
Employees of Uttarakhand Jal Vidyut Nigam Limited (UJVNL) are incensed over the move of the top management on hiring five officers, four at Deputy General Manager (DGM) and one at General Manager (GM) level on deputation. They claim that officers senior enough to be DGM and GM are present in the UJVNL itself and are not being promoted. By bringing in people from outside, the management is superseding those who are waiting for their promotions.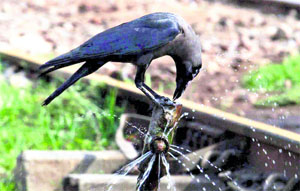 With the temperature rising, a crow quenches his thirst at a public tap in Dehradun on Monday. A Tribune photograph

Govt fixes Rs 1,383 fee per child for reimbursement
Dehradun, April 16
For the implementation of 25 per cent quota seats under the Right to Education Act (RTE) for children up to the age of 14 belonging to the poor and disadvantaged families in government and private aided and unaided schools (but not in unaided minority institutions) uniformly in the state, the government has fixed a fees of Rs 1,383 per month per for reimbursement.

Fortified wheat flour for mid-day meal under assessment
Dehradun, April 16
Even as a third party evaluation found the fortified micro-nutrient wheat flour scoring marginally over the non- fortified wheat flour, the government has again asked the Education Department to zero in on the specific micro-nutrients missing in the mid-day meal programme given to 9 lakh children in Uttarakhand.

Rawat: Avoid big dams in eco-sensitive areas
Dehradun, April 16
Union Minister of State for Agriculture, Food Processing and Parliamentary Affairs Harish Rawat, in a letter written to Uttarakhand Chief Minister Vijay Bahuguna, on the eve of the crucial Ganga River Basin Authority meeting to be chaired by Prime Minister Manmohan Singh, suggested that bigger dams in the ecologically sensitive areas should not be built.

PM urged to scrap power projects
Dehradun, April 16
On the eve of a crucial meeting of the Ganga River Basin Authority in New Delhi, the Matu Jansangathan, a voluntary organisation of the state, has appealed to the Prime Minister, who is heading the authority, to spare the Ganga from the devastation that will be caused by hydroelectric projects.

USAID shows interest in forest ecology, climate change
Dehradun, April 16
US Agencies for International Development (USAID) has envisaged keen interest in Indian Council of Forestry Research and Education's Research Programme and has ventured to support in the capacity of building scientists of ICFRE in the areas of forest ecology, climate change, tree breeding and genetics.

Pulkit adjudged best speaker
Dehradun, April 16
The Frank Anthony Memorial Inter-School Debate (Category-II Stage- I) was hosted by Summer Valley School here today in which 11 schools participated. The topic for this debate was "I am a teenager. I have changed but am I really different".

Permanent rooms for storing ration in schools


Dehradun, April 16
Waking up to the absence of proper storage space for storing ration earmarked for mid-day meals, the Uttarakhand government will build permanent rooms for storing ration in schools. The design for the storage that would double up as kitchen-cum-storage space is already being worked out.

Priya, Rishabh top dance competition
Dehradun, April 16
Pratibha Dance Institute organised a dance competition here yesterday. The competition was conducted in three categories.

Karate championship concludes
Dehradun, April 16
Seventh Dehradun District Karate Championship concluded here yesterday. In the seven-nine category (boys), Mohit stood first followed by Sidharth and Anant, who got second and third positions, respectively. In the 10-11 category (boys), Harsh got the first position and Akshat and Nishant got the second and third positions, respectively.