DMC to levy heavy taxes on residential schools, hotels
Dehradun, April 12
The Dehradun Municipal Corporation (DMC) has pulled up its socks and has now decided to levy heavy taxes on residential schools, hotels, restaurants, wedding points and petrol pumps. At a meeting of members of the working committee, 16 out of 24 such matters were decided.
20 lakh devotees expected at Haridwar on Baisakhi
Haridwar, April 12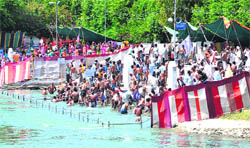 With the festival of Baisakhi commencing tomorrow onwards, the pilgrim city is already buzzing with influx of devotees from around the country to take a dip in the holy Ganga at Brahm Kund, Har-ki-Pauri, and adjacent to Ganga ghats.


With Baisakhi around the corner, Ganga ghats can be seen dotted with pilgrims from various parts of the country like here at Prem Nagar Ashram in Haridwar on Thursday. Tribune photo: Rameshwar Gaur

URC members sit on dharna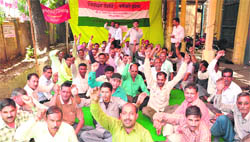 Dehradun, April 12
Members of the Uttarakhand Roadways Corporation (URC) sat on a dharna today before the URC office here. When this report was written, regional manager of the URC RK Yadav was having a dialogue with the agitated members to resolve the issue.

Uttarakhand Roadways employees hold a protest in support of their demands in Dehradun on Thursday. A Tribune photograph

ABVP members stage dharna
Dehradun, April 12
Akhil Bharatiya Vidyarthi Parishad members yesterday staged a dharna in Dehradun expressing resentment over the delay in releasing of the results of some of DAV (PG) College Dehradun students.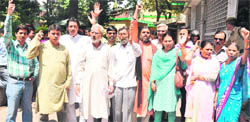 UKD activists hold demonstration
Dehradun, April 12
City president of the Uttarkahand Kranti Dal Bahadur Singh Rawat and senior leader Latafat Hussain protested before the District Magistrate's office against the increasing incidents of crime in the city.

Uttarakhand Kranti Dal (P) workers hold a protest in Dehradun on Thursday. A Tribune photograph

Free travel scheme for girls to be rationalised
Dehradun, April 12
The government has decided to rationalise the free travel facility for girl students in buses of the state government and restrict it to schooldays.
Haridwar zila panchayat savings meagre
Haridwar, April 12
Despite having properties and other assets worth crores of rupees, Haridwar zila panchayat savings are quite less in comparison to its expenditure. As per data available from the zila panchayat office, the annual income of the district body last financial year stood at Rs 1.40 crore but net saving is just Rs 30 lakh.
In-Vogue exhibition begins today
Dehradun, April 12
Welcoming summer and showcasing a wide variety of clothes, art and craft items and other utility items, a two-day In-Vogue exhibition will kick off tomorrow at Hotel Pacific.
5 killed in road mishap
Nainital, April 12
Five persons, including a girl child, were killed and four others injured when a truck collided with a four-wheeler near Dhauplur village on the Gadarpur-Rudrapur road last evening.
Rotary felicitates pulse polio campaign volunteers
Mussoorie, April 12
Rotary Club, Mussoorie, today felicitated around 40 volunteers involved in pulse polio drive carried out in Mussoorie in the past couple of years and achieving 100 per cent success rate in eradicating polio from the town.
St Joseph's debaters win
Dehradun, April 12
Debaters of St Joseph's Academy made their school proud by an exemplary performance in the Miss Saroj Srivastava Inter-School English Debate organised by Welham Girls' School.
Welham beat Convent of Jesus and Mary in basketball
Dehradun, April 12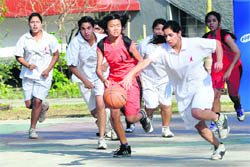 In the district junior under 18 basketball championship, Welham girls will take on Carman School in the first semifinal whereas Doon International will clash with Aryan school in the second semifinals in the girls' section. In the boys' category, Welham Boys School will clash with Hilton School whereas Doon School will take on Pestle Weed College.


A match in progress during the District Junior Basketball Championship in Dehradun on Thursday. A Tribune photograph