Contractors halt development works
Dehradun, April 4
The development work in various wards of Dehradun Municipal Corporation (DMC) has been stopped by the contractors protesting against the non-payment of their dues worth Rs 2 crore for the past six months by the DMC authority.
Lack of coordination among departments hits works
Dehradun, April 4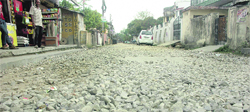 The lack of coordination among various departments like the Public Works Department, the Dehradun Municipal Corporation, the Jal Sansthan, the Jal Nigam and state agencies under Asian Development Bank and the Jawaharlal Nehru National Rural Urban Mission (JNNRUM) has hit development works in the city.

Repair work on a stretch connecting the Mohini road and the Balbit road in the Dalanwala area, Dehradun, is lying pending for two months. A Tribune photograph

Rockman workers not allowed to hold march
Dehradun, April 4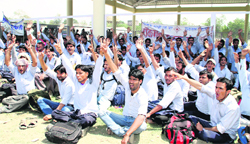 Three hundred workers of Haridwar-based Rockman Industries Limited, a company of Hero Auto group, gathered at Parade Ground here today to hold a protest against the suspension of three of their co-workers for attempting to float an employees' union on the factory premises. However, they were not allowed to hold a march from the Parade Ground to the Civil Secretariat.

Workers of the Rockman factory from Haridwar stage a protest in support of their demands at the Parade Ground in Dehradun on Wednesday. A Tribune photograph

Kala azar case in Doon Hospital
Dehradun, April 4
As a case of Kala azar has been confirmed in Doon Hospital, a 12-year boy Pawan Kumar, resident Naya Gaon village in Chamoli district, is undergoing treatment for the disease that is prevalent in Bihar.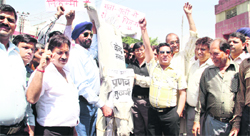 Jewellers' protest continues
Dehradun, April 4
Demanding the rollback of the hike in excise duty on gold, jewellers in the state capital continued their protest today.



Striking jewellers stage a demonstration in support of their demands in Dehradun on Wednesday. A Tribune photograph

8 FRI students clear IFS exam
Dehradun, April 4
In a major achievement for FRI (Deemed) University, eight of its students have been successful in the Indian Forest Service examination.
Dr Emani gets Young Scientist Award
Dehradun, April 4
Dr Pavan Kumar Emani, Associate Professor, Graphic Era University, received Rs 9 lakh as the Young Scientist Award from the Department of Science and Technology, New Delhi, today.
Prem to play in French para b'minton
Dehradun, April 4
After being selected by the Para-Olympian Committee of India, Prem Kumar, Uttarakhand Para Olympian, is all set to play in the 2nd French International Para Badminton 2012 to be held in France.