Take on modern India
Theatre actors Rajit Kapoor and Shernaz Patel bring a slice from life on to the stage with their play One on One, which is a collage of nine different stories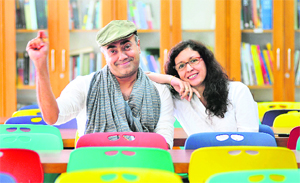 Everything except one is about working out the economics well; 'everything' in this context comprises staging shows across India, providing a platform for playwrights, working on their stories and living just on theatre. The only 'exception' is the actors, who do theatre only for the love of it. "For our hearts lie in it," confess Rajit Kapoor and Shernaz Patel, who are in Chandigarh with members of their theatre group
ON STAGE: Rajit Kapoor and Shernaz Patel
Loud & clear
In this era of intense competition on television, channels have to come up with new shows on a regular basis. Natasha Suri shares the details about her upcoming show Live Out Loud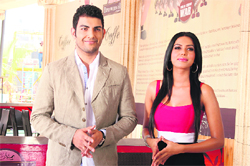 Imagine the idea of expressing your feelings towards your loved one with the help of 250 perfectly coordinated dancers in front of the entire world! Seems like a dream come true, right? Wrong! Thanks to the innovative concept of a brand new show on UTV Bindass, Live Out Loud, this dream is now a reality and is helping several youngsters from across the nation express their innermost feelings to their loved ones.

show on: Natasha Suri(R) poses with Parvesh Rana
Movie meter
Movie: Vicky Donor
Director: Shoojit Sircar
Cast: Ayushmann Khurrana, Yami Gautam, Annu Kapoor, Dolly Ahluwalia
Rating: Good
A film on a sperm donor can either be sleazy third rate flick, or a boring documentary dwelling on the need for sperm donation to help countless couples unable to bear a child. Refreshingly, surprisingly and delightfully Vicky Donor is neither. Actually, bold theme and an unconventional treatment go to make it an immensely watchable yet meaningful film. If in the first half it remains high on comic quotient, in the second one there is twist in the tale or as Anu Kapoor essaying the part of Dr Chadda an infertility specialist says, "There is a twist in the sperm."
first-day-first show
Vicky Donor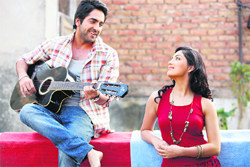 Dr Baldev Chaddha (Annu Kapoor) is a well qualified fertility expert, runs a fertility clinic and a sperm bank. Unfortunately he has more failed cases to his credit than successes. A healthy, high performing donor is the need of the hour. Vicky Arora (Ayushmann Khurrana), a young, good-looking is a Punjabi boy from Lajpat Nagar. From here on, Chaddha's days and nights are spent in convincing Vicky to become a donor till he finally gives in. But soon their hunky dory world comes crashing down because of Vicky's past as a donor. With a brief emotional roller coaster ride, Vicky Donor is a light-hearted take on the subject of sperm donation.
Timeless beauties
Between the bling of diamonds and precious stones, all that glitters is really gold. Ashim Sablok, the man behind his jewelley line, has 19 years of experience behind him. It was after completing his course in jewellery designing that he felt the void in accessory designing and took it up as a challenge.
Weight watch
Lunch break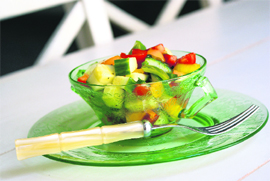 To meet our daily requirements the meal consumption has been divided into breakfast, lunch and dinner. An average normal individual requires approximately 40kcal/kg/day. So if you weigh 60kg you approximately need 2400kcal in a day. But the distribution should not be equal, 600kcal, 1/4th of the 2400kcal, should be consumed for breakfast, 1000 for lunch and 800kcal for dinner, making lunch the largest part of the meal taken in the day.
No intimacy, please!
We take a look at actors who have not done and who will not do intimate scenes in films
Ranbir and Deepika
They used to be a couple and had a kissing scene in Bachna Ae Haseeno. They broke up but are working together in Ayan Mukerji's Yeh Jawaani Hai Deewani. The director has decided to leave out intimate scenes to ensure they remain comfortable.

Celeb bashing, new casualty
Twitter is a rich source of instantly updated information about your favourite stars. But the social-networking site has its own cons, one of which is celebrity bashing. Amitabh Bachchan is the latest victim of such bashing. The megastar who recently did a shoot for Gujarat tourism updated his fans: 'And went out today to YashRaj Studio for photo shoot for Gujarat Tourism .. getting back to groove gradually, but a long way to go !'
Age no bar...
He might be 52, but age hasn't deterred actor Anil Kapoor from performing his own stunts in the forthcoming movie Tezz. Anil has a lot of high octane action stunts, especially towards the climax, but managed to pull off the stunts confidently.
Gaga turns alien for MIB 3
Singer Lady Gaga is to make a cameo appearance as an alien in upcoming movie Men in Black 3. Director Barry Sonnenfeld revealed the singer could make an appearance as an alien in the movie, which will also have a cameo by teenage singer Justin Bieber.
Asin takes a break


Asin has been busy shooting for Bol Bachchan and promoting Housefull 2. Now she is taking off on a holiday to Kerala. She will chill till the end of the month.
Delayed plan
I wanted to go just after the release of Housefull 2 but I stayed back to make a speech at the US Consulate in Mumbai and that was an amazing experience meeting distinguished guests and being recognised as an achiever. I make it a point to visit Kochi once a year to recharge my batteries. It feels great. I have been living in Chennai and Mumbai for a long time.
Parting pangs
Ragini Khanna got pretty emotional on the recent shoot of her serial, Sasural Genda Phool which was coming to its finale. She remembered all the good times she had with the entire cast and crew. What upset her most was that as they parted ways, her entire team members, who she fondly relates to as family, will not meet on a daily basis. However, with all endings come new beginnings and we are sure that we will get to see this bubbly actress play a new role soon. Therefore they say, 'All good things come to an end' as we bid goodbye to Sasural Genda Phool.
Boldness a state of mind: Paoli Dam
She is as bold as one can get. But Paoli Dam, who did a full frontal nudity scene in Bengali movie Chatrak last year, says boldness is all in the head."What is bold for you may not be bold for me. Boldness is a state of mind," Paoli, now the lead actress of Bollywood film Hate Story, said to be topped with dollops of sex and violence, she said in an interview.

Sonu goes dabangg
Sonu Sood says that post the success of Dabangg and the acclaim and recognition he has received, he has become choosy about his films. He plays a gangster in Shootout At Wadala.
Choosy actor: Sonu Sood
No rivalry…
The media has been hinting at a rivalry between Priyanka Chopra and
Sonam Kapoor regarding Ishaqzaade and both the stars have clarified that there is none between them. They are fond of each other and are friends socially too.
And, they says stars can't be friends...

My best friend's wedding
Priyanka Chopra is in Jaipur for her friend Tamanna Sharma's wedding ceremonies that began in the middle of the month. She planned the wedding events.
Perfect planner: Priyanka Chopra
Happy in her own world


Actress Jennifer Aniston has no hard feelings about her past. She is happy that her ex-husband Brad Pitt has finally got engaged to his lady love Angelina Jolie. The 43-year-old, who is currently dating actor Justin Theroux, believes her divorce from Pitt was destined. "She is not a bitter person and she has always wanted Brad to be happy. Jennifer spent many happy years with Brad and thinks their divorce was meant to be," said a source. Aniston is content with her life with Theroux. "She is very happy with Theroux, and that's what she is focusing on right now. Jennifer moved on a long time ago, and she is trying to just focus on her own happiness," the source added. — IANS
The year ahead
If your birthday is April 21...
A close friend may be giving you mixed signals. It's probably because they're not really sure of what they want. Be patient. Compassion is an essential ingredient of any loving partnership. Taking on a home decorating project could be good for you in many ways. Moderation is the key to success. Small satisfactions will cheer you up and make you more dynamic, favouring new projects which will stimulate you to give your best.
Astro Turf
ARIES: You may be somewhat low on energy. As a result, you would not want to push yourself too hard. If feeling exhausted, the best thing to do would be to not think about goals, but to recharge yourself. Tarot message: Don't be too certain about obtaining a clearance. Lucky colour: Black. Lucky number: 59