Doctor-ed move
In a country like India, completing a degree is the utmost priority in life. And if is a doctorate degree, heavens fall if someone even remotely thinks of dropping it! Shamoly Khera, the anchor with UTV Stars, found herself in the same dilemma and then decided to follow her heart's calling. "I got through my MBBS exam, but I realised I wanted to do something creative.

Telly tale: Shamoly Khera


One for the youth
Youth-centric, with a rich tadka of action, comedy, music and romance is what upcoming Punjabi movie Taur Mittran Di, directed by Navaniat Singh and starring Rannvijay Singh, Amrinder Gill, Surveen Chawla and Amita Pathak, is all about. The lead actors (Rannvijay Singh and Amrinder Gill) along with Rana Ranbir and music director Jaidev Kumar were in Chandigarh on Tuesday to release the album.
success mantra
A course well-defined
When you have no one to fall back upon, you rise. Such has been the case of Atul Gupta, co-founder and chief mentor of RedAlkemi. A venture that he started during the '80s while still in college, along with Anuja Lath, thrives on the motto of 'making today better than yesterday'.


PunĎjabí Sandeep Joshi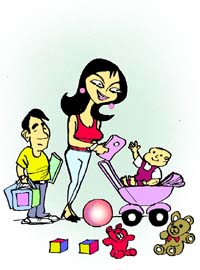 Iím giving this iphone4 to him to play as iphone5 may be out soon.
So natural
When the cavemen created stick figures on stone, no one would have imagined that art would have its own meaning for every artist. Monica Grover is one such teacher, who has splashed her adoration for colours and textures to give life to her third exhibition.
Itís official: Nagging is good for health
It appears that nagging is good for your health, especially if you are above 30, as it acts like a constant reminder for people to lose weight or become more active, a new study has found.
Road Rage
Block the sun
The thought of a drive in the summer doesnít really excite anyone. Despite car companies providing the best and strong air conditioning system for the vehicles, the probability of sun rays peeping in still exists. This is where we drop in words like window tinting.


Itís happening
Spring offer
With spring being the season, City Beautiful will witness a splendid Chandigarh Arts & Heritage Festival. Put together by three art akademies ó Sangeet Natak Akademi, Lalit Kala Akademi and Sahitya Akademi along with the Department of Culture, Chandigarh Administration, this will have a wonderful mix of poetry, painting, singing, dance and drama.

Art offer: Organisers of the Chandigarh Arts & Heritage Festival Photo: S. Chandan
Master Chef
Creamy cheesy easy!
What is life without a block of cheese I say? Quite drab, quite bland, quite unexciting I also say! Cheese is made out to be a villain in the culinary world due to its high calories. Somehow we overlook the fact that it is a good source of calcium, vitamin D and protein too. Adding a handful of grated cheese to a dish gives you lots of benefits and truck-loads of flavour.
HEART talk
Clear the air
I am a 40-year-old man with a happy family. I want to take a break and travel, but my family thinks it is wastage of time and money. I donít want to fight and spoil the entire atmosphere of the house, what do I do?


itís rocking
Lyrical conversation
The item song fever will stay for a while now and the new entrant to the rage is the track Chokra Jawaan from the latest movie Ishaqzaade. The song is written by Habib Faisal and vocals are by Vishal Dadlani and Sunidhi Chauhan. It has a feel of a conversation between Arjun Kapoor and Gauhar Khan.
A still from Ishaqzaade

When will Salman get hitched?
Sperm donors are the hot topic this weekend with the release of the movie Vicky Donor. While half the world seems to be waiting for Salman Khan to get married, the 46-year-young superstar seems to be in no hurry to get hitched.

Happily single: Salman Khan




Heart of gold
Sameera Reddy will be seen in this week's release Tezz. She is known as a bombshell. She also does a lot of charity work with children. She guides us on the same.



Miss congeniality: Sameera Reddy

Kushal Punjabi is back!
Hunky Kushal Punjabi is all set to hit the silver screen once again with Ekta Kapoor's upcoming movie Rock The Shaadi. Kushal, Genelia D'Souza and Abhay Deol are the three main leads for the movie, which will be releasing by the end of this year.



Penelope Cruz to star in The Counselor
Oscar-winning actress Penelope Cruz may star alongside husband Javier Bardem and another Hollywood couple Angelina Jolie-Brad Pitt in upcoming film The Counselor. Cruz is in talks to join husband of two years Bardem in the Ridley Scott film, a highly-anticipated drama penned by Pulitzer Prize winner Cormac McCarthy, reported a publication.


Miley's note of thanks
Singer-actress Miley Cyrus, who will be seen sharing the screen space with Demi Moore in upcoming film LOL, says the Hollywood star is like her soul mate. The former Hannah Montana star plays Moore's daughter in the film and said she helped her to know about herself better, reported a website.

Excited state: Miley Cyrus

Aditya's blockbuster strategy
What Aditya Chopra wants, he gets. He is studying the success trend of Aamir Khan and Salman Khan to ensure that Ek Tha Tiger gets the biggest opening of all time and turns out to be the biggest blockbuster in Bollywood. The film releases on Eid this year.
Jism 2 for adults only
While the makers of The Dirty Picture are busy cutting the scenes to make it suitable for television viewing, Pooja Bhatt wants nothing less than an 11pm for her upcoming film Jism 2.