M A I N N E W S
Drone strikes legal, ethical: US
Ashish Kumar Sen in Washington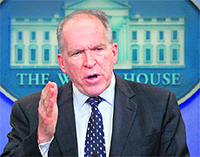 White House counter-terrorism adviser John Brennan
US President Barack Obama's counter-terrorism adviser on Monday defended the use of unmanned Predator drones to kill terrorist suspects despite Pakistan's opposition to such warfare.
Drone strikes are legal, ethical and wise, John Brennan, assistant to the President for homeland security and counterterrorism, told an audience at the Woodrow Wilson International Center for Scholars in Washington.
In a thinly veiled swipe at Pakistan, Brennan said there was nothing in international law that bans the use of remotely piloted aircraft against terrorist suspects or that prohibits the US from using lethal force "against our enemies outside of an active battlefield, at least when the country involved consents or is unable or unwilling to take action against the threat."
"As a matter of international law, the United States is in an armed conflict with Al-Qaida, the Taliban, and associated forces, in response to the 9/11 attacks, and we may also use force consistent with our inherent right of national self-defence," he added.
Brennan acknowledged that the US conducts drone strikes against specific Qaida terrorists. Obama has instructed his administration to be more open with the American people about these efforts, he added.
US officials have been making the case that the controversial drone strikes are legal in the face of growing Pakistani opposition.
Brennan defended the use of drone strikes, saying the Authorization for Use of Military Force passed by the US Congress after the September 11, 2001, attacks on the United States of America authorises the President "to use all necessary and appropriate force" against those nations, organisations and individuals responsible for 9/11.
"Targeted strikes are ethical," Brennan said.
"Targeted strikes conform to the principle of necessity - the requirement that the target have definite military value... In this armed conflict, individuals who are part of Qaida or its associated forces are legitimate military targets," he said. "We have the authority to target them with lethal force just as we targeted enemy leaders in past conflicts, such as German and Japanese commanders during World War II."
Saying that drone strikes cause minimal collateral damage, Brennan noted: "It is hard to imagine a tool that can better minimise the risk to civilians than remotely piloted aircraft."
Brennan said the use of drones was "wise" because remotely piloted aircraft have the ability to fly "hundreds of miles over the most treacherous terrain, strike their targets with astonishing precision, and then return to base."
"They can be a wise choice because of time, when windows of opportunity can close quickly and there may be just minutes to act,' he added.
Pakistan's government on Monday lodged a formal protest with a senior US diplomat in Islamabad over a drone strike in Miranshah, North Waziristan, the day before. A Pakistani parliamentary committee has demanded an end to US drone strikes in Pakistan.
Drone strikes in the border regions of Pakistan and Afghanistan have increased under the Obama administration. US officials say these strikes have been effective in eliminating terrorists.
Brennan's remarks come on the eve of the first anniversary of a US Navy SEALs operation in Abbottabad during which Qaida leader Osama bin Laden was killed.
Pakistan criticised the operation saying it had violated the country's sovereignty.
Pakistan kicked US troops out of the Shamsi air base from where unmanned Predator drone operations had been run, following NATO strikes on two Pakistani border posts in November. Twenty-four Pakistani soldiers were killed in that incident. The US has refused to apologise. Pakistan also shut down a land route used to supply US troops in Afghanistan following NATO strikes.