Kabul seeks Indian equipment for its security forces
New Delhi , May 1
Afghanistan today sought India's assistance in not only training its security forces but also equipping them under the strategic partnership agreement so that they were in a position to defend the trouble-torn nation after international forces withdraw from there by the end of 2014.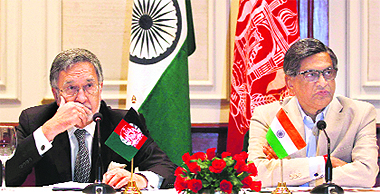 Afghanistan minister of Foreign Affairs Zalmai Rassoil (L) with External Affairs Minister SM Krishna in New Delhi on Tuesday. Tribune photo: Mukesh Aggarwal.
Colossal wheat wastage in Punjab, Haryana
New Delhi, May 1
Advising the government to distribute stored foodgrain among poor families instead of allowing it to rot, the Supreme Court had stated a few months back that wastage of even a single foodgrain in a poor country like India is a crime.
Paternity suit
SC admonishes Tiwari for avoiding DNA test
New Delhi, May 1
The Supreme Court today admonished former Uttarakhand Chief Minister ND Tiwari for refusing to give his blood sample for a DNA test for ascertaining a claim that he is the biological father of 33-year-old Rohit Shekhar.