PUNJAB

HARYANA

JAMMU & KASHMIR

HIMACHAL

REGIONAL BRIEFS

NATION

OPINIONS

LETTERS

BUSINESS

SPORTS

WORLD


Bad weather hits tourist arrivals
Palampur, May 1
Inclement weather, unusual cold conditions and poor means of transportation have adversely affected the tourism industry in the Kangra valley this year.
e-governance: Himachal among the best, says Dhumal
Palampur, May 1
The government is making efforts for the balanced development of the state and at the same time ensuring that the benefits of development reach the common man. During the past four years, the state government has taken various measures for ensuring effective governance to the people.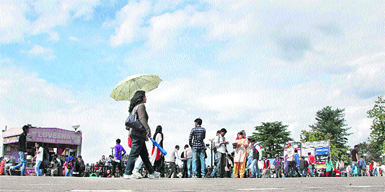 A view of a cloudy day in Shimla on Monday. Photo: Amit Kanwar
LPG shortage hits Kangra district
April 25, 2012
Poaching, illegal mining spell doom for trout in Tirthan
April 18, 2012
Vehicle owners face hardships
April 11, 2012
Rural health centres in Palampur need care
April 4, 2012
Illegal mining up as govt depts pass the buck
March 28, 2012
Poor roads major hurdle for tourism industry
March 21, 2012
Illegal ining goes on with impunity in Balh
March 14, 2012
Mandi zonal hospital lacks basic facilities
March 7, 2012
Bridge awaits VIP for inauguration
February 29, 2012
Trout fish farm project hangs fire
February 22, 2012
Heli-taxi services fail to take off in state
February 15, 2012