Bahuguna for development of border dists
Pithoragarh, May 2
Chief Minister Vijay Bahuguna said here today that his government would develop border districts of the state on priority and was committed to having complete infrastructure facilities in the areas.
BJP objects to CM ignoring Chufal during visit
Pithoragarh, May 2
The BJP has termed Chief Minister Vijay Bahuguna's visit to Pithoragarh as unfortunate and said that he did not honour his constitutional responsibility by not inviting the lone opposition MLA from the district to meet him. "The Chief Minister, who is well versed in the constitutional provisions, did not invite the local MLA and state BJP president Bishen Singh Chufal, thus violating the protocol," said Suresh Joshi, general secretary of the BJP.
ITBP to be given land for headquarters in Rishikesh: Bahuguna
Dehradun, May 2
Uttarakhand Chief Minister Vijay Bahuguna has said the government would provide land to the ITBP for its frontier headquarters in Rishikesh. He made this announcement during the flagging-off ceremony of a river rafting expedition of the ITBP in Rishikesh yesterday.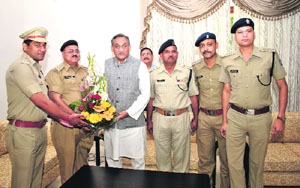 Plea to set up vigilance units in various depts
Dehradun, May 2
A delegation of the Provincial Police Services Association, Uttarakhand, led by its president Jaswant Singh, met Chief Minister Vijay Bahuguna here today.
A delegation of the Provincial Police Service Officers Association meets Chief Minister Vijay Bahuguna in Dehradun on Wednesday. A Tribune photograph

Hridayesh calls for better tax collection system
Dehradun, May 2


State Finance and Parliamentary Affairs Minister Indira Hridayesh has called for better tax collection system to generate revenue.
State Finance Minister Indira Haridayesh during a meeting in Dehradun on Wednesday.

Eco-philosophy chair in Pant university soon
Pantnagar, May 2
The Gobind Ballabh Pant University of Agriculture and Technology at Pantnagar is all set to establish an eco-philosophy chair. The proposed chair is expected to be established at the College of Basic Sciences and Humanities of the university.
'VHP to fight pseudo secular forces
Pithoragarh, May 2
International general secretary of the Vishwa Hindu Parishad (VHP) Praveen Bhai Togaria has said the parishad will fight the pseudo secular forces in the country which are preventing the Hindus from uniting by faking threat of Hindu terrorism. Togaria was at Lohaghat in Champawat district to attend a personal function.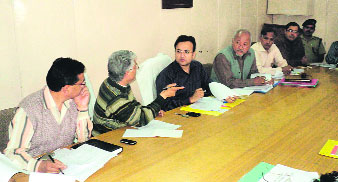 New Almora DM inspects development works
Nainital, May 2
Newly appointed Almora District Magistrate Akshat Gupta, while taking stock of development works being carried out in the district, has laid emphasis on mitigating the water crisis.
Akshat Gupta, District Magistrate, Almora, presides over a meeting on Wednesday.
Posts Under NHRM
Applicant accuses health society of giving him less marks
Dehradun, May 2
An applicant has charged the Uttarakhand Health Society under the National Rural Health Mission (NRHM) with awarding him less marks in an interview held for three posts of programme officer-urban health, programme officer-school health and programme officer-reproductive and child health on November 4, 2011.
CPI (ML) first state convention on May 13
Nainital, May 2
The Communist Party of India (Marxist-Leninist)/CPI (ML) has prepared a blueprint for its first state convention scheduled to be held on May 13 and 14 in the Gauzazali area, Haldwani.
Expedite development process: Chief Secy
Dehradun, May 2
Senior administrative officers of the Secretariat congratulated new Chief Secretary Alok Kumar Jain here today.
Shiv Sena flays CBI action against mahant
Dehradun, May 2
The Shiv Sena has castigated the alleged crackdown of the CBI on Devender Dass, Mahant of the Sri Guru Ram Rai Education Mission and Darbar Sahib.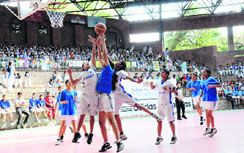 Welham girls to take on modern school in final
Dehradun, May 2
Welham Girls' School (Blue) will take on Modern School, Barakhambha, in the final of the 6th Welham Girls' School All-India Golden Jubilee Basketball Tournament being played in Dehradun.
A match in progress in the Welham Girls' Basketball Tournament in Dehradun on Wednesday. A Tribune photograph

Regularisation of 5 engineers flayed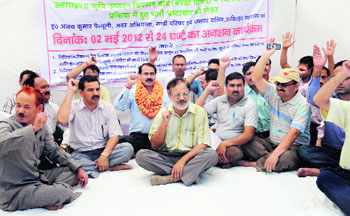 Dehradun, May 2
Members of the Uttarakhand Diploma Engineers Mahasangh have deplored the regularisation of those five diploma engineers by officials of the Uttarakhand Mandi Parishad who had been transferred from Uttar Pradesh to Uttarakhand.
Members of the Diploma Engineers Association hold a protest in front of Vidhan Sabha in support of their demands in Dehradun on Wednesday. A Tribune photograph

Chief Secy, others meet Alva
Dehradun, May 2
Uttarakhand Chief Secretary Alok Kumar Jain, Principal Chief Conservator of Forests RBS Rawat, Principal Secretary Vinita Kumar, Uttarakhand Open University Vice-Chancellor Dr Vinay Kumar Pathak and Sanskrit University Vice-Chancellor Dr Sudha Rani Pandey were among those who met outgoing Governor Margaret Alva at Raj Bhavan here today.