Green nod to JP plant in HP quashed; Rs 100-cr fine imposed
Vijay Arora
Legal Correspondent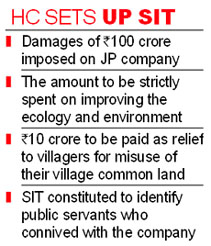 Shimla, May 4
In a double blow to Jai Prakash Associates Limited (JAL), the Himachal Pradesh High Court today quashed environmental clearance to its 25 MW thermal plant and imposed a penalty of Rs 100 crore for obtaining clearance for the cement plant by indulging in blatant "fraud and falsehood".
Delivering a landmark verdict on two different petitions, a green bench comprising Justice Deepak Gupta and Sanjay Karol also ordered dismantling of the thermal plant in Bagheri (Nalagarh) within three months while observing that "the time has come to deal sternly with the people who have no respect for law".
"This company has behaved like a law unto itself. This country is supposed to be governed by the rule of law and every citizen of the country howsoever high or lowly placed is is entitled to equal protection of laws. We are of the considered view that the rich and powerful cannot present the court with a fait accompli and say that now since the plant has been erected and is functioning the same should not be demolished" the order said.
In one of the petitions filed by Him Privesh Environment Protection Society, it was alleged that the cement plant had been set up in gross violation of environment laws, especially the Environment Impact Assessment Notifications of 1994 and 2006. Also, no proper public hearing was conducted and village land had been wrongly transferred by the State in favour of the JAL.
The project comprised a cement grinding and blending plant of 1.75 million tonne capacity for which the Pollution Control Board granted "Consent to Operate". The JAL gave an impression that the cost of the plant was less than Rs 100 crore and, therefore, no environment clearance was required. The petitioner alleged that the cost was more than Rs 100 crore and the company purposely understated it to circumvent the EIA notification (1994).
It pointed out that in the project report, the cost of the entire project was projected at Rs 450 crore. Out of this, only Rs 90 crore was the cost of the thermal plant. Hence, the cost of the cement plant was over Rs 350 crore.
Justice Deepak Gupta observed that the entire foundation of the environmental clearance was based on falsehood. The company lied about the cost of the cement plant. Besides, when it came to the thermal plant, it got permission without EIA clearance. Even after it was brought to its notice that the EIA clearance was required, the construction continued.
It managed to "fool the government, the board, the Union Ministry of Environment and Forests and the Expert Appraisal Committee" into believing that it was a standalone grinding unit not requiring environmental clearance.
In a scathing indictment of the government, the court observed, "The manner in which the company obtained possession of the land from the common pool clearly indicates that company was able to exert its influence to get highly illegal decision taken in its favour. We are aware of the aforesaid principles and we are not against setting up of a cement plant but the question is, can a party set up a cement plant without obtaining environmental clearance?"