M A I N N E W S
Sonia talks tough, ticks off partymen
Anita Katyal
Our Political Correspondent
New Delhi, May 9
With the Congress having suffered in the recent Assembly polls on account of bitter infighting and rampant indiscipline, its president Sonia Gandhi today sent a stern message to party cadres to present a united face as they prepare for the next round of elections over the next two years ahead of the 2014 Lok Sabha polls.
Addressing Congress MPs for the first time after the party's dismal performance in the recent state polls, Sonia admitted that the results in Punjab and Goa were "very disappointing". She urged partymen to draw lessons from these elections.
Making a pointed reference to the internal strife in the party, she underlined, "We must shed all manner of factional behaviour and fight as one disciplined team at all levels. This will be the single most important factor to decide whether we win or lose."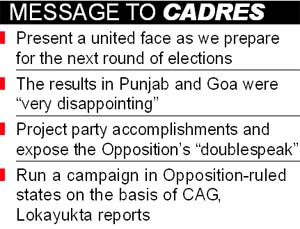 The party, Sonia stated, has to show commitment and unity to convert people's sentiments into electoral victories.
Her remarks come a few days after a three-member committee, headed by Defence Minister A.K.Antony, submitted a report to her on the party's poor showing in the recent polls which emphasised the need for instilling "discipline and compliance" among the cadres.
While expressing her disappointment with the results in Punjab and Goa, the Congress president put a gloss on the Uttar Pradesh poll verdict, which was viewed as a personal defeat for AICC general secretary and Gandhi scion Rahul Gandhi who led a high-voltage campaign in this electorally crucial state.
Agreeing that the party did not perform as well as it had hoped in Uttar Pradesh, Sonia remarked, "We increased our vote share quite considerably and were seen as a serious player for the first time in 22 years."
As demoralisation in the party ranks runs high and the UPA government comes under increasing criticism for policy paralysis, the Congress president attempted to boost the morale of workers and prepare them for the next round of electoral battles.
Stating that it had become fashionable to criticise the UPA government, Sonia asked the rank and file to project its accomplishments and expose the Opposition's "doublespeak."
Having been at the receiving end on the twin issues of corruption and mis-governance, the Congress president urged the workers to go on the offensive and pin down the opposition-ruled states on the same issues.
Though she did not name the BJP-ruled poll-bound states of Gujarat and Himachal Pradesh, the reference was evident when she asked party men to run a campaign on the basis of the revelations made by CAG and Lokayukta reports.
Having come under attack for violating the country's federal structure, Sonia made it clear that the Congress is committed to strengthening federalism.
Pointing to the Centre-state issues like fighting terrorism or dealing with left-wing extremism, she said it has always been the government's endeavour to work closely with the state governments to protect national interests.