M A I N N E W S
Munda's copter had a similar snag 2 yrs ago
Vibha Sharma/TNS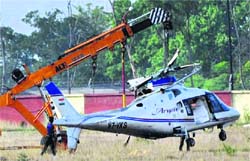 The wreckage of Jharkhand CM Arjun Munda's helicopter that crashed while landing at the Birsa Munda airport being removed using a crane in Ranchi on Wednesday.
New Delhi, May 9
The Augusta A 109 C crash has again raised pertinent questions regarding safety and maintenance of helicopters flying in the country. While Jharkhand Chief Minister Arjun Munda and others, including his wife Meera, miraculously survived when their chopper crash-landed at the Ranchi's Birsa Munda Airport today, some others in the past, including Arunachal Pradesh CM Dorji Khandu and Andhra Pradesh CM YS Rajasekhara Reddy, were not so lucky.
Sources say the 20-year-old A 109 C that crash-landed today had reported a snag in its tail rotor because of metal fatigue around two years ago as well. "The tail rotor had to be changed at that time. An almost similar problem in the rotor section witnessed today, which is purported to be the preliminary cause of Munda's chopper crash, should be a cause for concern for investigators," they add.
Experts say the number of chopper accidents in the country is also a reflection on the way helicopter operations are being conducted by operators and monitored by civil aviation regulator DGCA.
"There have been far too many chopper accidents in India, more than 10 in the past couple of years. It is a figure that goes beyond any acceptable level and the fact that accidents continue to take place, even with VIPs on board, mean that corrective measures, if any, have either been inadequate or failed to do the needful to prevent such accidents from recurring," says aviation expert AN Hanfee.
As per preliminary reports, the weather, which usually is a cause of many aviation accidents, was perfectly fine in this case. The chopper had tail rotor control failure due to which it lost directional control. This kind of emergency is very rare, but then, as per Hanfee, in aviation every emergency is rare.
The technique to tackle such an emergency is to land the helicopter with forward speed like in a fixed-wing aircraft so that when it touches down, the helicopter does not swing and crash. "For a military pilot this type of emergency should not be too difficult to tackle because throughout our career we routinely practice such contingencies. For an ex-military pilot like Col VK Singh (captain of Munda's chopper) this should not have come as a surprise because he also must have practiced this contingency many times while flying for the Army," says Hanfee
It goes without saying that the past couple of years have been particularly harrowing for the helicopter industry.
It all began with the going down of the Bell 430 carrying Reddy in September 2009. In April 2011, a Pawan Hans MI-172 flying to Tawang from Guwahati crashed, killing 18 of the 23 persons on board. The terrible tragedy was followed by a fatal crash of a Pawan Hans chopper, Ecureuil AS 350 B3, carrying the Arunachal CM.
In May 2011, a BSF Chetak maintained by Pawan Hans crashed near Mount Abu, killing all its occupants. It was followed by the going down of an advanced light helicopter (ALH) in October 2011, killing two pilots and a technician on board. There have other accidents as well, not fatal, but where the choppers were more or less written off.
For Hanfee, "the number is unprecedented and unacceptably high".
"The DGCA cannot escape the blame for creating an environment in the country where so many crashes have taken place. We did not lose so many choppers even in Sri Lankan operations," says Hanfee. He has been part of the IPKF operations in the island nation and was recently honoured for gallantry in Siachen.
Earlier mishaps
April 30, 2011: Arunachal CM Dorjee Khandu and four others killed in a copter crash on way from Tawang to Itanagar
Sep 3, 2009: Andhra CM YSR Reddy died when his helicopter crashed in a dense forest
March 31, 2005: Haryana ministers OP Jindal and Surendra Singh killed in a copter crash near Saharanpur in UP
March 3, 2002: Lok Sabha Speaker GMC Balayogi died in a copter crash in West Godavari district of Andhra Pradesh
Sep 30, 2001: Former Cong minister Madhavrao Scindia killed in a plane crash in Uttar Pradesh
June 23, 1980: Sanjay Gandhi, son of ex-PM Indira Gandhi, died when his glider crashed in Delhi